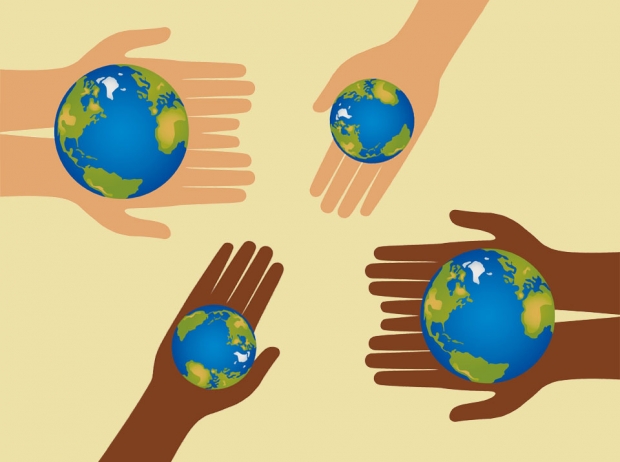 Why a Global Curriculum Matters
"Teaching children about global issues and encouraging them to see the world through the eyes of another is of huge importance", according to Campbell and a growing movement of internationally-minded educators. In an increasingly interconnected world, today's young generation need to learn be able to engage in communication with people from a wide range of different cultures and traditions. (1)

      You won't find it in your standards or nestled in a curriculum map, but incorporating a global perspective into your lessons is one of the most important things a teacher can do. It's tough, and it isn't always at the forefront of your mind while planning, but it can help your learners in a multitude of ways. Empathy education, or social emotional learning (SEL) is a huge trend across school districts right now. In an effort to increase understanding and decrease bullying, schools are implementing programs that work with learners to develop these skills at a young age. Usually these activities are limited to segments like a morning meeting or a community time, but for them to truly be effective they need to make an appearance in multiple aspects of the learner's life. 
Robert Campbell says, "Teaching children global awareness makes for a more vibrant and more encompassing school community. It certainly means that for us as a school community there is greater harmony." (1)
       The are droves of scholarly articles that link reading fiction to increased empathy. (2) Why, you might ask? Because they place the learner firmly in the "shoes" of another, in their head, and the problems and situations are seen through the perspective of someone besides the reader. It's the same with global education; when we discuss problems and situations around the world our perspective is limited to the country we're from…in my case America. Students need to understand that around the world people think, act, and perceive things different from them. You'll see this integration happen occasionally in a literature classroom and maybe in social studies (if its even taught) but beyond those narrow subjects global and cultural curriculums disappear. Unfortunately for our students, the vast majority of businesses believe schools should help young people to think more globally and four out of every five believes that schools should be doing more. (1)
        This is because the internet is transforming not only the way we learn, but also the way the world works. Employers want people who are globally minded, who can think broadly, and have the ability (and ideas) to connect to others. That starts with you, in your classroom. Use tools that will both simultaneously engage learners and also challenge them by exposing them to multiple viewpoints. Google Hangouts, Twitter, and Skype make it so easy to get in touch with people around the world. (I did!) Bring authentic sources into your classroom and watch as your students are not only engaged, but enthralled, with what they're learning.
      Terry Heick of Edutopia asks "how do you "globalize" a curriculum?" Certainly that means something different for educators everywhere, but where do you begin with an effort this ambitious? (3) I've already lauded the benefits of music education, so why not use music and start creating a more globally relevant classroom? If you're looking to introduce a unit, or extend one with a tie-in that caters to multiple learning styles use music. There are plenty of songs and dances that make accessing a completely foreign culture easy. 
Integration Station:
        Let's take a look at some traditional topics that might come up in a classroom and brainstorm about how we could not only integrate music but also a global perspective as well.
        Black History Month saw us under a huge unit on Ghana including a choral piece and stick passing rhythm game. Students loved it and also learned about another culture (did you know Ghana was the first country in Africa to overthrow the British, just like the USA did in 1776?) (see HERE)
         Spring or seasons pop up constantly in everything from math, to science, to literature. But are all the seasons the same around the world? How about spring in Japan? We learned about their beautiful cherry blossoms and even learned a little Japanese ourselves with the beautiful choral piece Sakura (more HERE)
        Thanksgiving lessons now need to include Native Americans, but why not update it to include tribes and music from today? MTV Rebel did a great series about how Native Americans from all over the country are using music to draw attention to and challenges issues that they're currently facing. (HERE)
          I've done entire units on Global Hip Hop (including the amazing documentary Shake the Dust) and World Music Weekly. 
These are just some ideas to get you started. I'd love to hear about and see some of the work you're doing in your classroom, music related or not. Please share. 
Sources:
1)http://www.theguardian.com/teacher-network/2012/nov/05/global-awareness-schools-education
2)https://scholar.google.com/scholar?q=reading+increases+empathy&hl=en&as_sdt=0&as_vis=1&oi=scholart&sa=X&ved=0ahUKEwjShIP3uYLMAhXKuIMKHVWdCioQgQMIGTAA
3)http://www.edutopia.org/blog/global-curriculum-terry-heick
4)http://www.learnnc.org/lp/editions/every-learner/6682