21st Century Music – Guest Speaker
Grammy Nominated Producer, Bryan Wilson, took some time out of his busy schedule to speak to my class of eager 7th & 8th graders. He talked about what it means to be a producer, all the hats he has to wear, and how important communication and collaboration are to his job every day.

What did we talk about?
        Towards the end of our 10-week 21st Century Music course (more about it HERE) after students have obtained the vocabulary, knowledge, and skills required, I try to bring in a guest speaker, or expert in the field.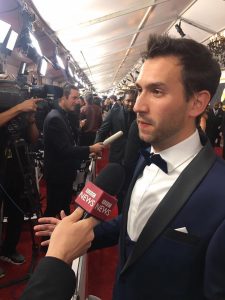 This is before our big final push for the student choice capstone project. It's an important time to do this because your students are knowledgeable enough to understand the content being discussed, engaged, and able to formulate informed questions. Bryan Wilson, a Grammy nominated producer, was kind enough to Skype in from London to discuss the finer points of his work, and how important communication and collaboration is to him everyday. I prepped my class before he called in and we brainstormed a few questions such as "What do you struggle with as a producer? and "What do you look for in an artist you work with?" Even at this stage the students needed a little coaching, since they all immediately wanted to know about how much money he made (not a good leading question guys…) We invited all students who were interested to attend 21st Century Music that day, and the response was great! Students were engaged, focused, and quiet! (which for 60 middle schoolers is impossible!) I can't thank Bryan enough as it was such a meaningful experience to both me and my students.
Why bring in an outside expert?
        We're already stressed from all the content and material we have to cover on a daily basis, throw in some standardized tests on top of that, as well as parent contact and classroom management issues and the average teacher is swamped! Does anyone have time for something like this, and is there even a place for a guest speaker in the classroom? OF COURSE! It brings so much value and meaning to your lesson and activity. Scholastic, and the Buck Institute for Education (BIE) have written about its place in the classroom, and I can personally attest to it's worth! Consider using a guest speaker at the start of a big project to generate interest, or at the end to validate students learning. Either way it's vital that you connect your content and project with the speaker. There needs to be a why, but once you do that you can really motivate students and make their work feel meaningful!