A New Curriculum for a New Century
      Who thinks they are musical and who thinks they could be musical? These are questions that grace the entrance tickets my students take at the start our ten-week 21st Century Music Elective. The results are always the same. Very few consider themselves musical and even fewer think they could develop that ability. Yet in just ten weeks the students go from creating a playlist on Spotify, to having their own original music on the site. We enable this growth by empowering students, giving them the tools and skills they need, and allowing them to collaborate with peers by both giving and receiving feedback, until they create what they deem to be a successful product.
     This doesn't happen instantaneously  of course, but is accomplished over time using carefully curated materials and activities to build both students' skills and confidence. Students are given the time and space to explore and create. They also learn the valuable skills of giving and receiving critical feedback. Finally, the work they do is driven by choice and personal interest and always ends in a tangible product they are proud to showcase. 
      The 10-week course starts with an engaging activity that has students creating, administering, and analyzing the results of musical surveys. Trying to find what music and musicians the class thinks are the best, students create categories and nominees and then administer the survey via Google Forms, looking at and then creating a Spotify playlist based on the results. We touch on the business side of music, covering not only complex ideas like merchandising, licensing, and endorsing, but also selling music directly. Students choose from a variety of web-based tools to create their own beats and after getting feedback from their instructor, submit a final version.
     Feedback is important, because it forces students to work at the higher levels of Bloom's Taxonomy as they evaluate and analyze their music. We start with songs from professional musicians, followed by analyzing previous classes' work, and finally their peers work. Students slowly become more attuned to, and more confident with, their likes and dislikes, as well as what could be improved. Feedback is not only important to the creative process, but also develops them as learners. Once they accept that their first attempts will not achieve perfection, they become more open to criticism and are more willing to persevere.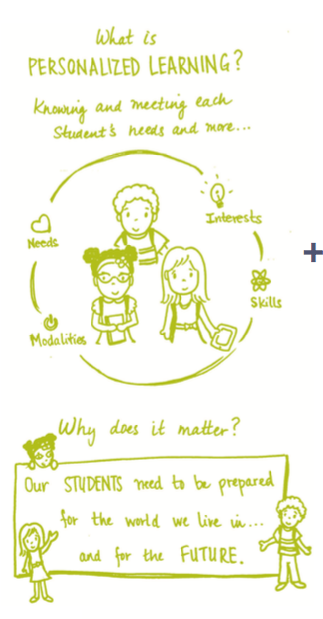 The create>feedback>adjustment loop carries on through another guided project of creating an original music piece using web-based programs that allow students to select and arrange samples, change the tempo, and add effects. The culmination of the course is an open-ended project that allows students to create and collaborate on a personal project that is relevant and meaningful to them.

The course is based on tangible projects and skills that develop successively. Students start at the same place, but as it progresses students begin to move at different paces. Culminating each weeklong unit an additional, optional assignment opens up. Additional assignments involve  "real-world application" of what we've been working on, including tasks like  re-branding an artist, using your beat to record beat-poetry, or conducting an interview and creating a podcast. This allows  learners to dive deeper and pursue areas that they are personally interested in. The flexible curriculum caters to all learning styles and skill levels, while still challenging students at all levels of Bloom's Taxonomy. They become motivated, self-directed learners upon seeing the real impact of their work. By the end all my students considered themselves more musical than when they started.