Sakura, Cherry Blossoms – A Spring Song
"Sakura," or "Cherry Blossoms", is a traditional Japanese folk song that invokes the season of spring. Probably one of the most popular songs of all time, it's an incredibly easy and accessible choral piece in both English and Japanese.

        It can be tough to get students engaged in learning about other cultures, but I think that creating a global curriculum is one of the most important things a teacher can do. It's not in your standards, and usually absent from your curriculum map, but exposing students to a variety of languages, cultures, and viewpoints from a young age can do wonders for your learners. If you're still looking for a reason May is Asian-Pacific Heritage Month.
      I remember reading a very convincing article in the guardian a few years ago, and it talk about how businesses and employers want more globally minded people working for them. I made a conscious decision to start including material from all over the world in my lessons (I explain why here) and try to bring in as many authentic sources as possible. 
       Sakura is one of those authentic sources, it's present version was documented in 1888 by Japan's Department of Education, but it's based on an even older melody from the Meiji period. The first thing i do, before even listening to the song is talk about Japan. It's so important to engage learners and active prior knowledge and students seem to always know a ton about Japan! Nintendo, Pokemon, and Samurai are common themes that all students are interested in. There are a bunch of video, I've found the most artistic and aesthetically please one are always on Vimeo (here's the one I used) And I usually include a few pictures of myself (I spent sometime there a few years ago)
Once enthusiasm is high introduce the song, and pass out the lyrics. When I'm introducing a new song this is my usual process of doing it.
Speaking the lyrics (just having them reading them aloud together)
Listen to the song and silent read
I say you say (repeat after me)
Sing line 1 / Sing line 2 / Sing lines 1 & 2
     The process of learning a new song always takes time. Don't expect them to do it all at once. I have the unit broken up into 3 parts. A) English only then b) Japanese only and c) both. Take your time and make sure that students have mastered the part before you move on. I saw my students were struggling with memorizing melodies so I showed them that the song continuously repeats itself and that if they knew one line, they just had to copy it later in the song.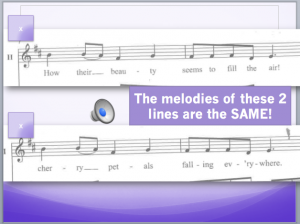 Next moving to the Japanese is tough, hopefully your students are invested enough in the song that they embrace the upcoming challenge. I went over a pronunciation guide with the students first, and then broke the words up phonetically. They got it pretty quickly and I was thoroughly impressed, the only difficulty was that the letter I  is pronounced like ee. I introduce the Japanese lyrics in the same steps as the English ones.
        Once they've mastered both the English and Japanese parts then I split the class into two groups. Left and Right, boys and girls, however you want to do it is fine. Both groups sing verse 1 and verse 2, however they split parts at verse 3, with one singing the English version and one the Japanese. This will easily be the most difficult part for your students, and my only advice is practice practice practice. In my lesson I have isolated tracks of the individual parts as well as an instrumental version, but eventually they have to sing it together. I see my students 45 minutes/week and the song took us 3 weeks to learn it, and maybe 4 to be totally performance ready.
Here's a video of my students singing it at a Spring concert! 
Hardlink: https://www.teacherspayteachers.com/Product/Sakura-Cherry-Blossoms-A-Spring-Song-2489827