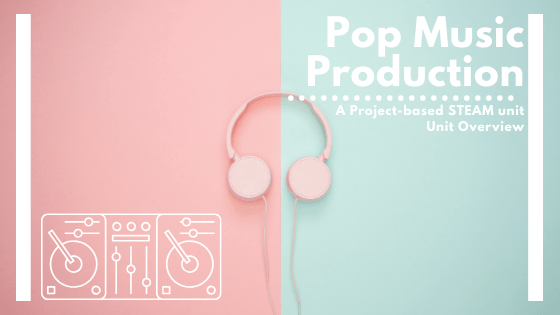 Pop Music Production: An Overview
One of the biggest areas I get questions about from other arts teachers is digital music. It is simultaneously one of the most desired areas and one of the most intimidating. However, with a little practice anyone can produce great original work using these tools. These lessons and materials can be used as individual activities or as part of a larger unit. If you have access to tech and the internet in your classrooms, then I would definitely give digital music a try! 

Find materials here: https://www.teacherspayteachers.com/Product/Pop-Music-Production-A-Digital-Music-Course-5340412
Our goal is by using free web-based tools we will learn how to create, craft, and publish a digital pop song. With low-risk entry activities and high value end products this content can be used as individual lessons or together as part of a cohesive unit. You will learn how to use digital tools, create a curriculum, and implement it in their classroom. The content is divided between short activities and larger projects. There is most likely more content here than you could use – so pick and choose the lessons and materials that will work for your individual situation. I've used a variety of DAWs (Digital Audio Workstations) over the years and if you can afford it, the SoundTrap for Education package is well worth it, but for those without a budget like myself – I've found using BandLab.com as the main tool to be wonderfully effective and fun.
What is Pop Music?
Pop Music is just short for popular music, although it definitely has it's own connotation. Most people associate "pop" with the large stars like Bieber, Katy Perry, and Justin Timberlake but as we example that you'll see that pop music has actually shifted over the last decade and a half to include more rap and hip hop. One of the activities I love starting with is a student-centered, student-led, and student-created "the best music" survey – I've been doing this in different iterations for years – if you want to read more here was my original post and here are the materials. This is not only a great introduction, but a wonderful talking point as well. It helps foster buy-in even among challenging students. Another wildly successful but accessible lesson that I've been doing with my student is "Roll-a-Song." Students roll dice and choose samples from various categories (Beat,Guitar, Piano, Texture) and add them to a blank project creating music that sounds pretty good, without taking much risk. This big payoff with little effort is essential at the beginning of the course to boost student confidence and buy-in. Here's my post about "Roll-a-Song" and you can find the materials here.
One of the most important things I think is to give both students and the course a little context. the way music works not, is NOT how it worked even 10 or 15 years ago. To chart the shift is to document the fundamental changes in music itself. We take a quick walk from records in a jukebox to the total domination of streaming services today – using graphs, podcasts, and videos to examine how and why this occurred. The NY Times "Popcast" is a really great in-depth look at why these changes occurred, but at an hour long it can be a bit cumbersome for students. So, what I have been using (also from the Times) is their wonderful series "Diary of a Song" to examine the current state of popular music and how today's hit songs are created. I think in 2019 there wasn't a bigger hit that Lil' Nas X's "Old Town Road" and their behind the scenes look was really eye opening!
Our Projects:
   In the pop music production I take my class through 3 main projects. We start really simple with an easy genre mashup, but eventually are able to create and publish a fully original song. The big lift happens during Project 2 to 2.5 but with the resources and additional one-off activities students should have all the skills and information they need to be successful.
Just like Lil Nas X combined Country music with Rap to great success I challenge students to combine two different Loop Packages in www.bandlab.com/ to create a simple, but fun and unique track.
Students start by using the fun and easy beat sequencer Splice – but eventually shift to the drum machine in BandLab. The first part of this project sees students creating a simple A/B beat, but the heavy lift comes next. We watch another Diary of a Song to answer the question "What does a producer do?" Student then choose a song or style they like and change their original beat to match that style.
By now your students have a ton a tools at their disposal. They understand the basics of pop music, how genres blend together, can make a beat, and have even tried their hand at producing. We use this helpful NPR story and examine "What is a Hook?" to try and make our songs catchy. Students work on their final songs, stopping for peer reviews and even invite you as their teacher as a collaborator. Eventually when they've achieved their best work, I push out the songs through a distributor (I use DistroKid.com) to be published on Spotify – it's a great finale and the kids love having their work present in the real world. Here are some example of songs my students have done in the past.
Pop Music Production
This has been a passion of mine for years, I studied Audio Engineering & Music Business and I've always tried to incorporate it into my general music classes. When our school shifted to middle school electives and I was gifted with 5-week long courses I knew I had an amazing opportunity to do something unique. There are a lot of things covered in these materials that I didn't learn until I was in college, but when honestly my student don't have any trouble grappling with. Some of the projects have stuck around like Beat Making or Spotify Songs, but I cycle through the other ones. I have done Socratic Seminars on the benefits of streaming, a Pandora musical characteristics activity, and even a pretty much Money in Music (check out this Kahoot!) However you decide to structure your course and classroom is up to you. I think you'll be shocked at the eager audience of students who love this material and surprise you with amazing work at every turn!.
Full Resources and Materials can be found here: https://www.teacherspayteachers.com/Product/Pop-Music-Production-A-Digital-Music-Course-5340412