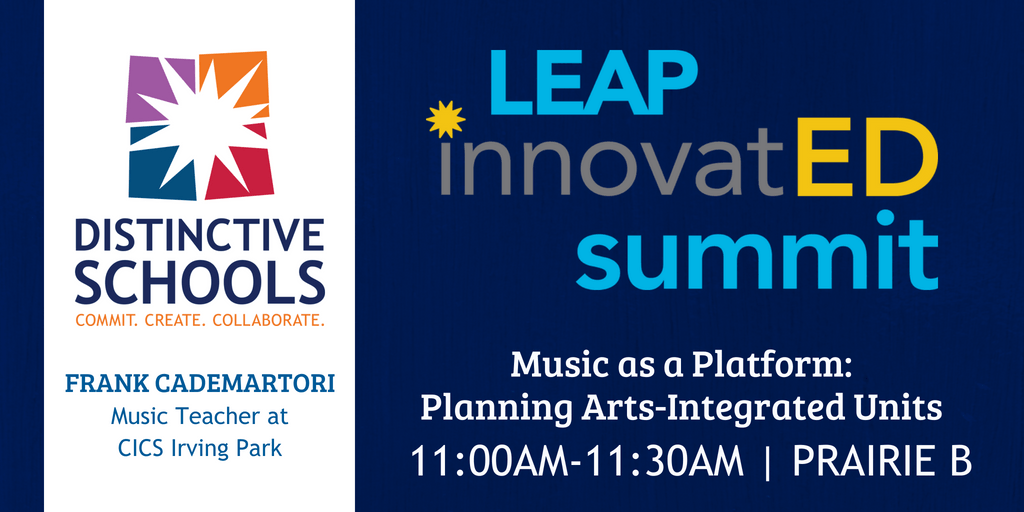 Presenting at the LEAP: InnovatED Summit today!
Learn how to incorporate music & the arts to create multi-layered immersive lessons that will both challenge and engage your learners. Using research-backed methods we will look at examples in multiple subjects, discuss practical application, and brainstorm ways to apply these in your own classroom.

What is it?
The LEAP InnovatED Summit is where the most innovative education stakeholders convene to advance the transformation of education. The Summit is a full day of inspiring and informative keynotes, interactive sessions and thought-provoking conversations on best practices, insights and research on personalized learning. If you'll be attending and have interest in Arts Integration or using arts in the gen ed classroom make sure you add me (https://leapinnovatedsummit.sched.com/event/FrLZ) and check out my session!
Music as a Platform:
Using Arts Integration in your Classroom
"Arts integration is an approach to teaching in which students construct and demonstrate understanding through an art form. Students engage in a creative process which connects an art form and another subject area and meets, evolving objectives in both." –Kennedy Center
A Quality Arts Lesson is                              

A Quality Arts Integration Lesson

Promotes Critical Thinking

Empowers Teachers with a creative curriculum

Fosters Connective Learning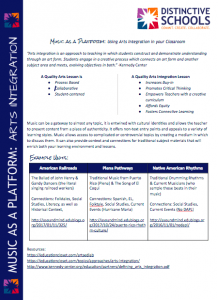 Music can be a gateway to almost any topic, it is entwined with cultural identities and allows the teacher to present content from a place of authenticity. It offers non-text entry points and appeals to a variety of learning styles. Music allows access to complicated or controversial topics by creating a medium in which to discuss them. It can also provide context and connections for traditional subject materials that will enrich both your learning environment and lessons.
Example Units:
American Railroads
The Ballad of John Henry &
Gandy Dancers (the literal singing railroad workers)
Connections: Folktales, Social Studies, Literacy, as well as Historical Context,
Native American Rhythms
Traditional Drumming Rhythms & Current Musicians (who sample those beats in their music)
Connections: Social Studies, Current Events (No DAPL)
Resources:
https://educationcloset.com/artsedlab
https://educationcloset.com/topics/approaches/arts-integration/
http://www.kennedy-center.org/education/partners/defining_arts_integration.pdf