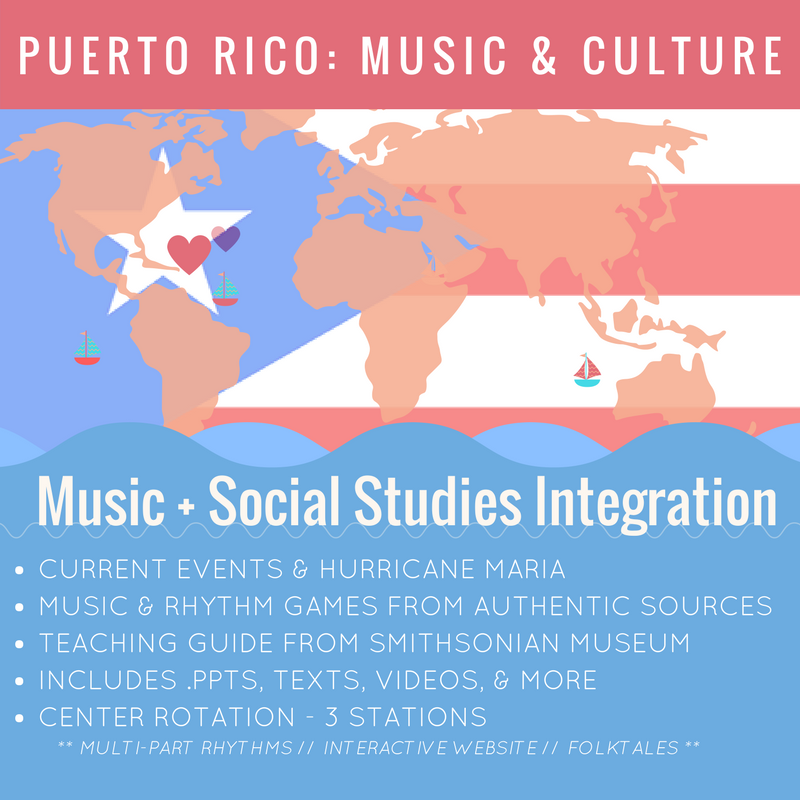 Puerto Rico: Rhythm & Culture
Puerto Rico has been coming up in the news a lot lately. A US Territory, that has been absolutely devastated by Hurricane Maria, but there is more to the country than what we hear in the news. My school has a large Puerto Rican population and so I wanted to share and celebrate their rich and diverse culture.

We were planning a school-wide dress down day, with the donation raised going to benefit the beleaguered island. We hear about it in the news, and we were actually doing something about it! The students were excited…I was excited! I wanted to use this enthusiasm and tie the material into my curriculum somehow. My 5th and 6th graders were coming to the end of a short rhythm activity and I decided to do a unit on Puerto Rico next. I think it's great that we're raising money and awareness about their plight, I wanted to also fill students in on the country before the hurricane, the island some Puerto Ricans refer to as Borinquena.
First and foremost, it was a music rhythm lesson and so that was the focus I used to plan the rest of the unit around. We would explore Puerto Rico through the lens of a rhythm activities. I got a great activity from Smithsonian Folkways, using the Plena group, Los Pleneros de la 21. Plena is a unique music that is often thought of as the "music of the streets" in Puerto Rico. It deals with everyday affairs, gossip, and important events. With the help of some great videos from the band (in Spanish and subtitled) we learned about the history of Plena, as well as the different parts. I made sure to use authentic sources when discussing a culture outside my own in the classroom (why authentic sources matter)
My engagement piece was a short clip from the student-centered news program CNN10 where they discussed the impact of Hurricane Maria on Puerto Rico. This is an awesome free resource and it's updated weekly. We discussed any personal connections the class might have had, as well as the upcoming fundraiser at our school. I felt it important for students to have some context and make some connections between what we learn at school and what happens outside of it. I have to say, I felt such high engagement from the students and by the time we were ready to start the rhythm activity, I had countless personal connections and even offers to bring in authentic artifacts from their house (or grandma's) It's so powerful to see something of yourself reflected in what you learn at school.
       Most of the learning took place in 3 centers. One station had students learning about this history of music in Puerto Rico though traditional folktales, another had them using an amazing digital resource from the SMithsonian to learn about Plena and other types of traditional Latin-American music, and the last group was teacher lead by myself, where we used instruments and worked through the rhythms. I loved doing it this way because it exposed students to multiple sides of the same topic and allowed them approach it in various ways; plus it kept students interested and engaged! There were so many tie-ins to other subject areas that I could see a unit like this being used in social studies or even literature as well. It was such a holistic approach and I think it helped those grades really become invested in the topics they were learning about and empowered in that our school was actually doing something to help! 
https://www.teacherspayteachers.com/Product/Puerto-Rico-Rhythm-Culture-3450225