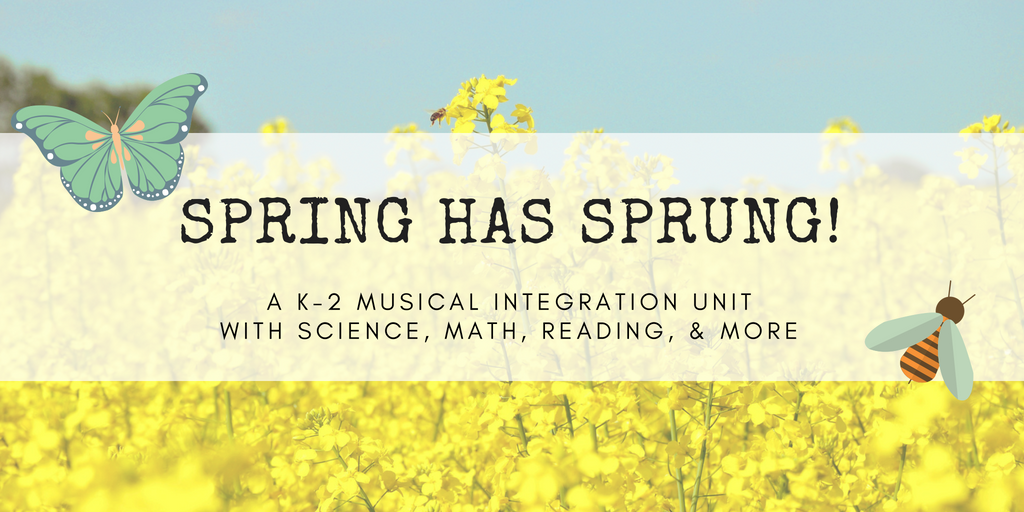 Spring has Sprung: an Interdisciplinary Music Unit
In this exciting cross-curricular unit students learn all about spring! Using music as a platform we touch on all sorts of K-2 Standards, from parts of a plant (science) counting currency (math) and The Very Hungry Caterpillar (reading). Perfect for both the sunny and rainy spring days!


Unit Overview Video:
     I love spring! Flowers bloom, the weather warms, windows open, and birds start to sing. Chicago lies on a huge migration highway and so the amount and variety of beautiful songs we can hear are staggering! In fact the Montrose Point Bird Sanctuary was named the best spot in the entire state to see (and hear) migrating birds, I even shared this great news report from WTTW with my students. With so many sounds I felt compelled to incorporate spring into my music class. While I have been for years now, this time around I added a few new lessons and activities to my older spring music unit. I wanted to make sure I included as many core disciplines as possible: reading, math, science, and more!
Science:
Of course a unit about seasons just inherently lends itself to science, but I wanted to highlight a few of the most successful topics and activities that touched on science. Obviously, we touched on birds and migration, which is really easy to understand since we have the big V's of Canadian geese soaring through the sky; we used their honks and calls in this spring listening bingo game. We also talked about caterpillars to butterflies and the metamorphosis, which I've talked about previously here.  And of course we talked about flowers, learning about not only the parts of a plant (flower, stems, leaves, and roots) but also what plants need to live! 
Literacy:
In this unit we read three different stories: Lost in the Woods: A Photographic Journey pairs well with this hilarious video, the Eric Carle classic The Very Hungry Caterpillar, as well as The Listening Walk. These texts help supplement our songs and activities while bringing the joy of reading to the classroom. Especially in the Very hungry Caterpillar where we take the exact event of the story and turn them into a song based on the children's tune "Today is Monday" With the Listening Walk we follow the young girl on her journey around her neighborhood and the text from the story as guidelines for our own walk.  
Math:
It may seem like a bit of a stretch, but actually made counting currency fun! In an imaginative sharing activity 5 Pretty Flowers students are coloring, creating, and sharing flowers through a fun circle song. Each student colors a flower and and then places it in the middle of the circle, we pass around 5 pennies and sing the song, when it ends the students with the pennies can "buy" any flower the want from the middle of the circle. Then we count up our currency together, but I think the most valuable lesson is (esp. for Kindergarten) that its ok when someone else picks the flower you made, it just means they like it!