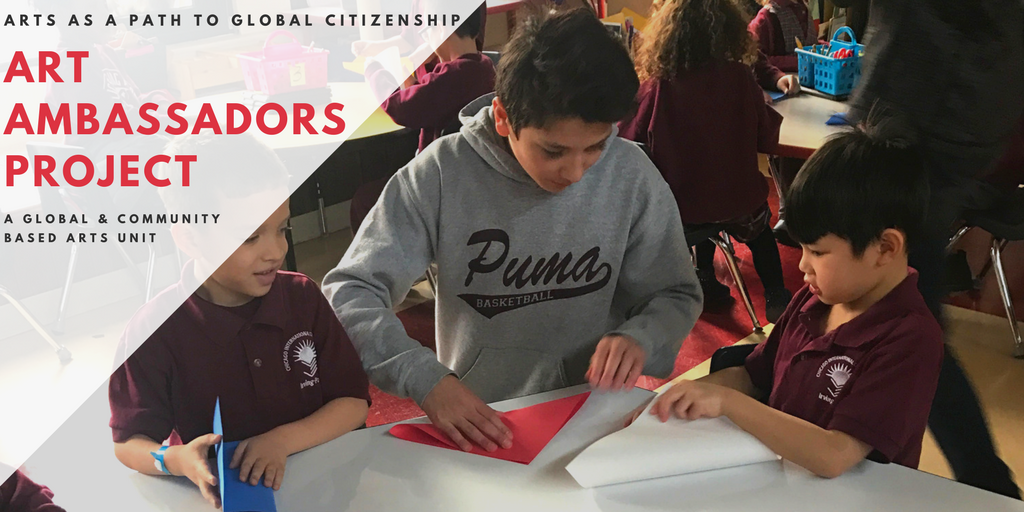 A&GC: Final Project – Art Ambassadors
The final project of our Arts as a Path to Global Citizenship course was a community based one entitled: Art Ambassadors." The project involved students learning about both an art form from another country or culture as well as the country itself, then presenting and teaching it to another younger grade in the school. Initially met with some resistance by my middle schoolers the project ended up being a huge success! 


    The swan song of this extremely enjoyable course was a small project entitled Art Ambassadors. One of the conclusions we came to collectively, as a class, was that Global Citizenship involved some form of action. That action can be as simple as reading about another country in the news, raising money or donating to help people, or even actually physically traveling abroad. There is no action deemed to small and they're all incremental steps on a lifelong process. That was it was so important to me that the final project for the course involved action! Not just performing a task in the classroom but going out into a larger community; our school. 
Art as Action:
     A design anchor of our school is to develop an "awesome powerful community." With that in mind I wanted to connect that to the idea of action in Global Citizenship. The final project was dynamic in that required students to complete several layers of academic tasks from research, to presenting, to teaching. This is important because it serves as a structural guide to pull students through the various steps of the hierarchical learning pyramid. Student retain only 5% of what they hear in a lecture but 90% of what they teach. In order to get achieve this lofty goal I broke the project up into 3 simple sections
Chose a country or culture outside your own, an art form from that place, and research.
Develop a short (5 slides) in class presentation to share facts about country and said art form.
Learn art form to a degree of proficiency to teach to a K-3 classroom – present and teach another class how to make art! 
Obviously this is an oversimplification, but the general idea was that students would choose another country or culture (this allowed them to pick Puerto Rico – which is technically part of our own country) learn about it and present on it. This might be where a lot of projects end, but I wanted to build on our awesome powerful community as well as the action component of global citizenship. Remember: we said that even something as small as being aware is a form of action. So by taking their art and presentation with them to another classroom they were raising awareness (and in such a way that retention would be high) thus fulfilling their role as a global citizen! 
How & What we did:
     The countries ranged from Mexico to Japan, and the arts were even more diverse. I had woodblock printing, singing, rhythm games, origami, and even a salsa tasting (culinary arts). This was the type of project that involves a lot of front loading as the teacher but once they students got rolling it became really hands off. They each had a rubric, but what was essential was that they had class time to work, my just was just to facilitate presentations. I did this by sending out a signup sheet with all the groups topics to our K-3 classes and allowed teachers to sign up for what they wanted. This helped make the process as unintrusive as possible. Classroom teachers would often sign up for a time at the end of the day or right after lunch – and I was have the materials ready for students (as well as passes) to make this as quick and seamless as possible. I also strategically selected the last 3 days before spring break – which lead to a lot of teachers wanting special visitors as well as minimal instruction missed when the middle schoolers left their classes to teach.  One flaw about this was that not every group had a classroom sign up for their "art form" (sorry Reggae Dancehall moves) and that some groups had to present more than other (up to 3 times). However I rewarded students with merits, a form positive reinforcement and most seemed to not mind.
    The reception from both the students and the teachers was overwhelmingly positive. Of course the initial reaction of middle schoolers was "I don't wanna." However, once put on the proverbial stage most kids will perform, and mine did so admirably. I had teachers emailing me about how amazing and patient they were with their kiddos, saying things like "I know this step is hard, and if you need help raise your hand. We won't move on until everyone is ready." It really just tugs at my heart strings to know that beneath their tough exterior, my middle schoolers are secret softies. But it wasn't just the teachers that loved it, it was the students too! They also loved sharing what they did with the kids and I think collectively the sum of the project became much greater than its individual parts. It really exceeded my expectation in what it could achieve and I couldn't be happier with the way this course turned out. It was ambitious and put me out of my comfort zone as a teacher but not only am I better off because of it, and not only did my students become better off because of it, but now many other classrooms benefited as well. Together we fulfilled the promise in the title of course the couse: Arts as a PAth to Global Citizenship.