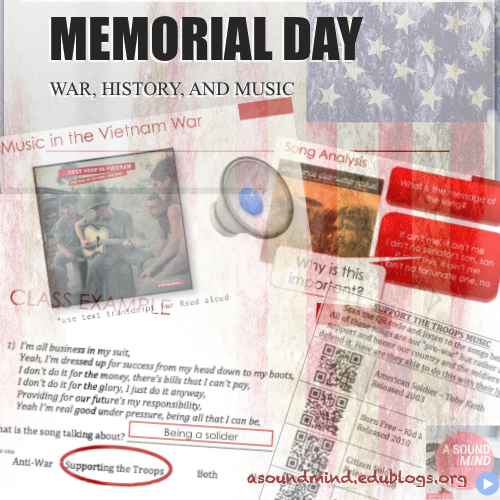 Memorial Day: Lesson Three
Teaching Guide
Lesson Three: Set-up and teaching techniques for a musical social studies unit on Memorial Day. Focusing on the Vietnam War and how music impacted the war, and vice versa.  

This is my final post in a series detailing and outlining an engaging and innovative approach to teaching American history, text analysis, author's intent, perspective, and of course music critique. Students have really responded to it and have been asking a lot of meaningful questions during lessons. Contemporary US history, especially the Vietnam War, doesn't get much coverage in the Social Studies textbook (if the teachers can ever get to it) but it's something the students have all heard of and you just just tell they're really curious about this big huge thing they all know of, but have never learned about.
Lesson Three:
       The focus of this lesson is really more on music. If you front-loaded the material yesterday/last week, then students should be really eager to hear the music associated with everything they just learned. The main goal is that students will be able to (SWBAT) independently listening to music, analyze song lyrics, and discern their topic and message. To show "mastery" they'll be two songs with different messages and compare and contrast them.
       Begin where you left of yesterday using this political cartoon and the Creedence Clearwater song, "Fortunate Son" to discuss what the message of the song and the author's (songwriter's) intent were. I usually take this time to discuss the exit slip assignment yesterday and explain that although the messages and agendas of the song might be different. Anti-War is NOT the opposite of Supporting the Troops. We often think in dualities in our society (black and white, cats and dogs, etc) and this is a case where it seems like they're opposites but they're not.  It's also important at this time to discuss figurative language with your students, in that the songs might be hiding their meaning behind descriptive words. Most of the examples are actually extremely straight forward, but it's good for students to have an attentive ear when listening to the songs. Don't forget to cover your objectives for the day either!  
Listening Party:
       I wrote about how to prep for this activity, but basically you'll need some tech if you want to avoid this becoming a whole class project. If you have limited tech use, headphone splitters (that 5 students can plug into one pice of tech) -so a class of 30 only needs 5 pieces of tech! Break students up into groups, usually of 5 or 6 depending on the class size. Each group gets a list of the songs, and a copy of the lyrics. If you're limited with paper just do one per group, if not I like each student to have their own copy (plus I collect and reuse them at the end of the period) They also need access whether its tinyurls or bit.ly , QR codes, or an Edmodo / Google Classroom post. The idea is there are a lot of songs for them to choose form and this activity offers both autonomy and a large amount of student choice. The goal is that students choose two songs with different messages and compare and contrast them, using specific lyrics to support their analysis. Most students enjoy listening to all the songs and watching all the videos, however I always have a few who rush through it, and in response I simply go over their sheet and ask them if their is their best work, and try to think of better or more descriptive vocabulary they could use. If that doesn't work just have them fill out another double bubble map (or venn diagram). Here's what my worksheet looks like:
 I usually leave about 5 minutes left in the period to both pack up and wrap up. Discuss with kids which song was their favorite, if they liked one style better than the other, etc. I've found this last activity to be very highly generative as a lot of the videos feature vivid imagery to bring the subject we're learning about to life. This is just my teaching technique and pacing. After teaching it, I would slow down the amount of material covered in lesson one and spread it out if possible; it could easily be split in half if you wanted to stretch this lesson out longer. Another thing the pacing will depend on is that age and maturity level of your students, this can vary greatly from class to class, but in the end no matter what their maturity level was all the classes enjoyed it. I'm a music teacher, and frequently cover holidays, but at times I felt like a straight up US History teacher, the best part was my students didn't even know they were sitting in a social studies lesson. That's really the power of integration here, you're approaching students with familiar material in a different way. Even if students have already learned the content,  this activates multiple forms of intelligence's and will reinforce what they already know! On a personal note, I also felt it helped my students take the holiday of Memorial Day a bit more seriously, and understand that it's more about the soldiers than the Saturday barbecue.
Find more here
Part I: https://asoundmind.edublogs.org/2016/05/17/memorial-day-war…d-music-lesson-1/
Part II: https://asoundmind.edublogs.org/2016/05/17/memorial-day-lesson-2/

Part III: https://asoundmind.edublogs.org/2016/05/17/memorial-day-lesson-3
Full Lesson and Materials:https://www.teacherspayteachers.com/Product/Memorial-Day-Unit-History-War-and-Music-2555989