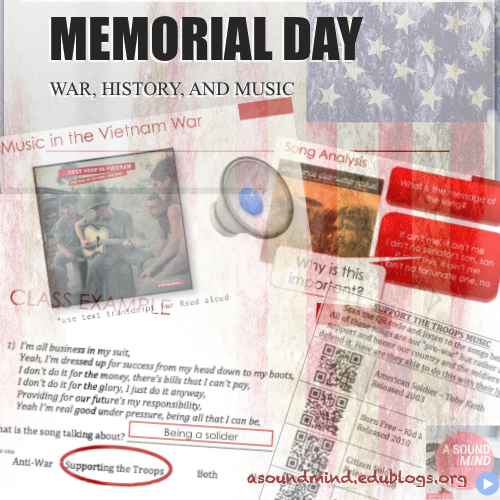 Memorial Day: Lesson Two
Teaching Guide
Lesson Two: Set-up and teaching techniques for a musical social studies unit on Memorial Day. Focusing on the Vietnam War and how music impacted the war, and vice versa.  

This is the 3rd post in a series detailing an engaging and culturally relevant unit centered around war, music, and Memorial Day. 
We left off in the previous lesson with the activity on the Vietnam draft. Nobody wanted to be drafted but even if you were drafted you didn't necessarily have to go, depending really on the status or connections of your family (or college). Once they understand that point, explaining the next is easy. Using multiple forms of media, from the .ppt, to political cartoons, to music we explain the Creedence Clearwater song "Fortunate Son." Making some predictions about what the lyrics or even the phrase "fortunate son" might mean. We then watch the lyrics video and discuss the chorus afterward. It can be a pretty tricky discussion if you have a few vocal students with strong sets of morals, but it was unfair that people who born into privilege did not have to have to serve their time if drafted.
      Then we discuss the author's intent, or songwriter's intent in this case. What was the theme, message, or purpose of the song? Did it have an agenda? What was it trying to say? With the right front-loading your students should easily be able to draw this conclusion without your aid at this point. If not you might want to spend a little more time on this part of the lesson because next, is an activity where they'll be doing this task independently.

Lyric Analysis
After going over the song and its lyrics and determining not only what the phrase "Fortunate Son" meant, but also what the writer's intent might have been, I pass out a double-sided worksheet with 7 different examples on it. You might get a groan or two, but these are the song we'll all listen to tomorrow. so exposing them today will help the students with their work tomorrow. The work required is really low, basically students are just reading the words and trying to determine a subject or main idea, and what the writer's intent might have been. My students were able to complete worksheet in under 10 minutes, but in some classes our discussion when long and we didn't even get to this part of the activity (that's bad, they should apply what they learned) either way every time I've taught it students were engaged and came away with both a better understanding of contemporary American history and a new appreciate for music they might not have necessarily listened to on their own.
Find more here
Part I: https://asoundmind.edublogs.org/2016/05/17/memorial-day-war…d-music-lesson-1/
Part II: https://asoundmind.edublogs.org/2016/05/17/memorial-day-lesson-2/

Part III: https://asoundmind.edublogs.org/2016/05/17/memorial-day-lesson-3
Full Lesson and Materials:https://www.teacherspayteachers.com/Product/Memorial-Day-Unit-History-War-and-Music-2555989