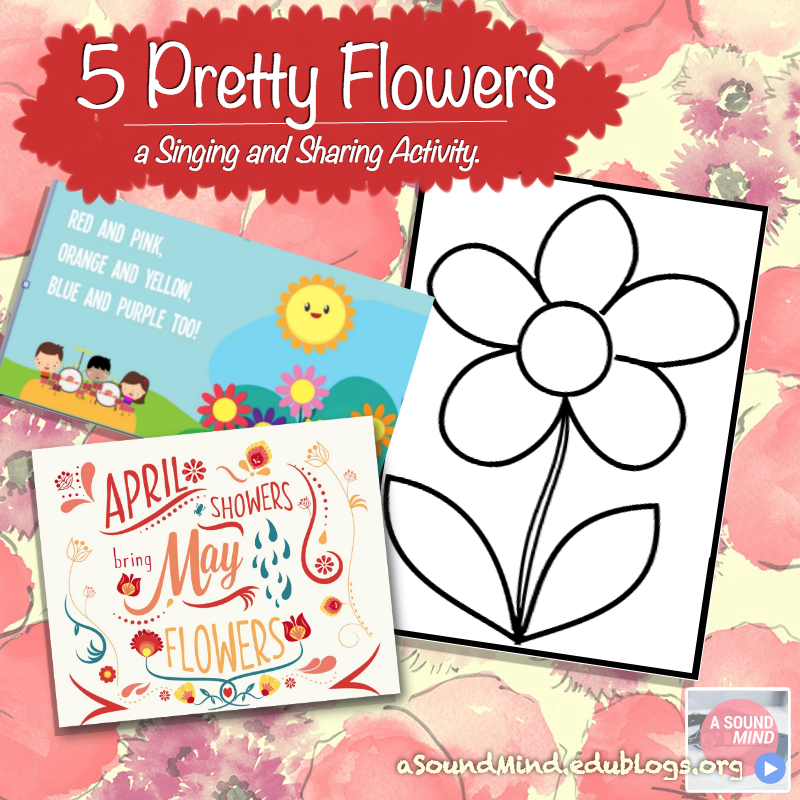 Five Pretty Flowers : An Introduction Activity
I've done a lot of lessons on flowers and spring time, and this was a perfect introduction activity to those larger more in-depth lessons. A short 30 minute lesson, that involves, coloring, singing, and sharing!

I used this lesson as a sneak peek or preview for my May Flowers lesson, which is a great way to integrate science into music (or music into science!) It was with Kindergarten and a first grade class I ended up seeing twice in a week. Both times it went over great! It involves coloring, singing, and sharing. I also managed to work in currency (which falls under Common Core for 2nd Grade Math CCSS.MATH.CONTENT.2.MD.C.8  )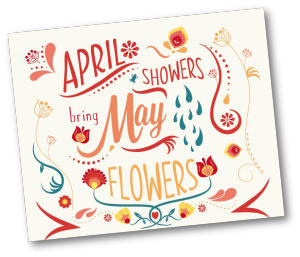 I almost always start with my class on the carpet, its positioned right in front of the projector, which makes imagery, listening to music, and discussion so much easier. We discuss this popular saying, and what it might mean (be sure to clarify that showers doesn't mean shower in your bathroom –funny story–) Explain that April is rainy so plants get a lot of water, while May is usually sunny, and when the plant gets both water and sun it can grow into a beautiful flower! Then quickly I transition in to the song about flowers and their colors ( find it HERE ) and we usually just watch it once. You don't need to any more, but what's important is that you're discussing what colors(s) could a flower be? The answer you want students to decide is ANY COLOR! 
With that, I have them transition back to their desks (or any other hard surface) and pass out this super basic half page flower coloring sheets. I usually put a 5 minute timer up on the board and say that each person has to color their own flower for our song and game. It can be any color you want, but every person needs one to play! When the timer expires, I have them deposit their now colored flower into a bin or bag in the middle of the carpet and circle up around it. 

5 Pretty Flowers:
We go over our new song "5 Pretty Flowers" (see above) which is sung to the tune of "5 Little Monkeys." I usually do and I Say You Say (repeat after me) and students learn it quickly. Once they're able to sing it, then I'll explain the rules. Each student has a flower in the bag, but it costs a penny to buy one. I pass out 5 pennies, and when its their turn they give the penny to me (thank you!) and come to the middle of the circle and randomly select a flower from the bag. When all 5 pennies are back in my hand, I'll choose a different 5 students. It helps keeps students engaged, switching every 5 people (as opposed to going around in a circle, where they get bored) it also is a great way to incorporate currency into your class. Plus, I mean their minds were blown that I was giving them REAL money! The best part is, at the end of the lesson, every student has a flower that was created by someone else. They really enjoyed that part, seeing someone else choose their flower and excitedly telling them! I expected some might get jealous but in 3 classes of doing this activity not one student seemed to mind! 
The whole thing takes about 30 minutes and was a lot of fun. Let me know how it goes for you! 
Find all the resources you need for FREE (https://www.teacherspayteachers.com/Product/FREE-LESSON-5-Pretty-Flowers-2547868)
permalink: https://www.teacherspayteachers.com/Store/A-Sound-Mind