Black Panther Drumming: Music, History, & Culture
The film Black Panther was a huge hit, Chadwick Boseman (its star) passed away in 2020, and the new film will be released in 2021. (2022?) It's relevant pop culture that is here to stay and will engage students of all ages for years to come. This lesson is a great way to tie-in pop culture with authentic sources to create meaningful learning.

February is Black History Month and can be the perfect time to shine a spotlight on the contributions African Americans have made. Sometimes though, the lessons can be too focused on the past when there is history being made right now! I think The Black Panther is an amazing example of that. Ryan Coogler went to great lengths to make his movie as authentic and meaningful as possible. From African musicians, designers, and actors the film represents a Pan-African look at the rich beauty and depths of a multitude of cultures. The best part is, that tieing in a Marvel movie is such an easy and engaging strategy that students are often hooked as soon as I mention the topic!
Buy Materials Here: https://www.teacherspayteachers.com/Product/Black-Panther-Drumming-Music-Rhythms-Culture-6486839
Intro / Activate Prior Knowledge
Start with a trailer (it has images of comic book violence FYI – use your judgment) Explain unit goals and why you are teaching it (Black History Month Connection?). Activate prior knowledge, by asking students what they "know" about Africa – be prepared to confront possible stereotypes during this section. Typically unless it's wildly offensive I will write down all student responses and then return to them at the end of the unit. A point that usually needs to be stressed is that Africa is a continent and not a country – showing it's true size often will drive this point home for students. After introducing it, I will usually play a Kahoot to reinforce themes and introduce topics. This is a great activity to circle back to at the end to check for understanding & growth! 
Kahoot Link - 

https://create.kahoot.it/share/black-panther-rhythm/e2bf593d-f44d-442e-9c97-dd30f7383c3a




Authenticity
The Black Panther was a pop culture phenomenon for many reasons, but one was the authentic Pan-African cultural representation. Wakanda may be fictional but the fashions, styles, and languages in the film are not. (http://bit.ly/3qSHnyZ & http://bit.ly/3sQ6F2p). Through this unit, we are going to learn about the very real people, places, and musical instruments that help inspire this film.  The activities are all grounded in both the movie and the cultures represented. 
Activities
If in-person…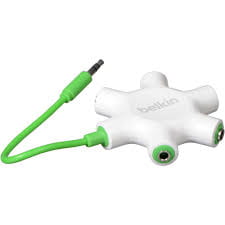 I run these as music centers, where I have 3 stations students rotate between. Typically the 2 listening/video stations are in the back of the room while the drum playing one is at the front of the room, on the carpet, with me. The listening stations have printable slips, complete with an easy URL to enter or a QR to scan, which will allow students to access the files easily. They are designed to print 2 per sheet (cut in half and save paper!) Another invaluable tool for setting up stations like this are headphones splitters. This allows multiple students to use the same device to watch or listen to the activity. I've found that they're much more likely to work on the tasks if they're working together. I would allow for ~10 mins per center and then rotate. This will easily take an entire 45m – 1-hour lesson. 
If remotely…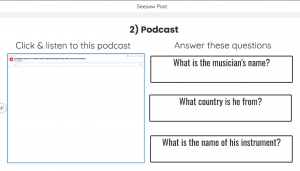 I recently modified this lesson to teach remotely by using SeeSaw. If you don't have access to this platform take a look at the activity and adapt it to NearPod or Google Slides. (just transfer the exit slips to Google docs, and when you assign it make sure "each student gets a copy" is selected). I have the 3 activities represented digitally and allow students to work on them independently like a playlist. They can be done in any order, and I changed a task to "draw and label" a djembe to make it more engaging. Students will most likely not have drums so you can encourage them to drum on their lap/desk. 
SeeSaw Activity Link: 

https://app.seesaw.me/pages/shared_activity?share_token=g99wbQeYRRasXBu5ypTBhw&prompt_id=prompt.dc581976-753c-4ab5-bbae-3a2e020fbb46




Buy the Materials
If you are a thrifty teacher, there is more than enough information, material, and ideas for you to create your own wonderful lesson. However, if you wanted to save yourself the time, I have my materials available for download here. I know that often, the biggest struggle when planning is conceptualizing the lesson, and not creating the materials. However, sometimes by the time you get the perfect idea, you might not have time to make everything you need. I have mixed feelings about TpT, which is why I offer so much on my blog for free but want to offer an opportunity to just download the vids and .ppts for those who need them!
Buy Materials here: https://www.teacherspayteachers.com/Product/Black-Panther-Drumming-Music-Rhythms-Culture-6486839