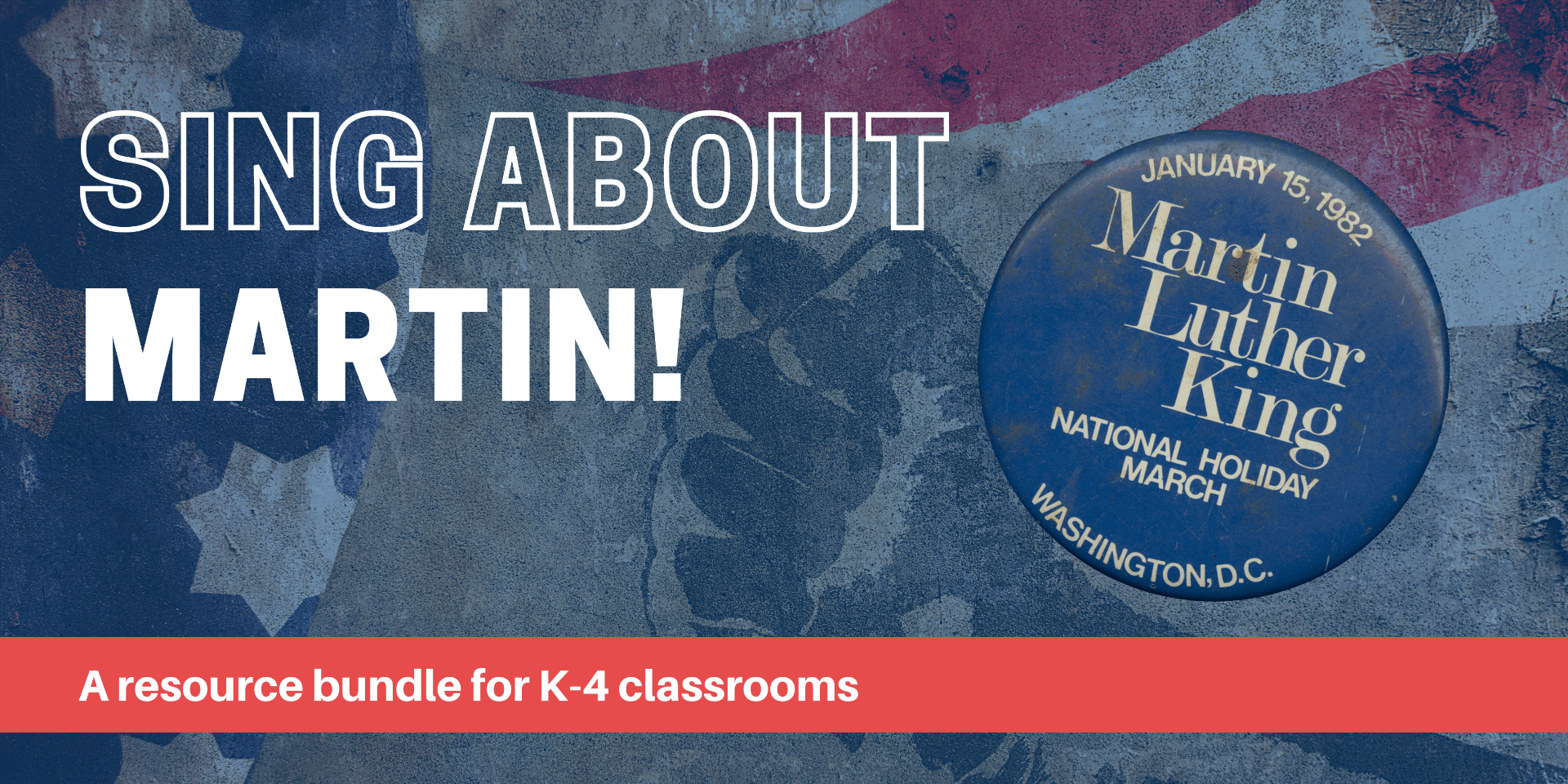 3
Sing about Martin!
A small collection of resources I've compiled over that deal with Martin Luther King. Call and response songs, biographical raps, read-alouds, sign language, and other videos help give students different ways to participate in this lesson. While MLK can be a somber holiday, it can also be a celebration of his life.

Dr. Martin Luther King Jr. was an American Civil Rights figurehead. He was a passionate speaker, pastor, and activist. We remember him each January near his birthday (the 15th). This is such an important part of American history and is unfortunately just as relevant today as it was when Dr. King was murdered in 1968. I am remiss in that I am not actually discussing this subject beyond the "tip of the iceberg" but there is definitely room for questions and discussion in this lesson. The materials here are designed for younger grades, (K-4th) but that didn't stop my students from asking hard questions and expressing their emotions about the topic. (So be prepared.) My favorite was a 3rd-grade girl who had a reversible stuffed animal that could appear happy or sad, and she used it to describe her feelings. That the things Dr. King did made her happy, but she was sad that he was dead. So don't be afraid of covering this with the younger grades. They understand in their own way.
I also wanted to make it a point to actually show Dr. King. We so often see black and white photos or drawings and illustrations. Yet I included color photos and even his passionate final speech (I have been to the mountaintop…) and in the video you can see a microphone with an ABC logo that is identical to the one they still use today. Dr. King is often portrayed as the end of the civil rights movement, but in many ways, he is the start of a new one. A new era in a long history that is still developing. As a music teacher, I knew my students would probably talk about it in their homerooms, or discuss it during a morning meeting, but I still wanted my student to sing about Martin!
Sing about Martin!
The main musical activity here is the call and response song "Sing about Martin." A very simple song that students should be able to sing-a-long with even their first time through. We'll approach the song in several ways, first singing along with the video, then with me while I play guitar. Next, I'll add in some movements with the words. I found a great sign language tutorial, and soon I've got students standing, singing, and moving to the music. It's a quick but fun way to celebrate the life of Dr. King while reinforcing his message.
The chords are F,G,C,F (repeat) so it's easy to play along with. If we were in-person I'd pass out chime bars, bells, or Boomwhackers and have them play along. Since we're still remote I had my older students play along using the Chrome Music Lab's shared piano. The song has a wicked piano solo in the middle, so it's fun to have students really go nuts on it. If you need tangible artifacts to grade, the Shared Piano app also allows students to save their songs via a link – so they would be able to turn it in via Google Classroom/SeeSaw etc.
Videos
Rather than reinvent the wheel, I borrowed some existing videos from YouTube to help introduce and explain this dense topic. First and foremost is Kid President. This little dude tackles a tough topic head-on and does a great job. However, since he addresses it so directly (see quote below) that he had my students asking questions….WHICH IS GREAT! I know some people become uncomfortable discussing topics like this, but if your students are asking you those questions, it not only means they were engaged with your lesson but that they want to learn! I also found a great MLK Biography Rap in the historical musical style of Hamilton. I also had a BrainPOP video ready if needed, and a read-aloud of Martin's Big Words. 
Materials
I also have a dream! I think this is a topic that needs addressing, even if it only a supplemental part of your class. So I wanted to offer my materials here FREE of charge, for the time being. The file size limit is too small for me to upload the videos, but the essential ones are already embedded in PowerPoint and the others are linked above. If you do use them, I ask that you pass this link on to someone else who might want to use them, as well as leave a comment below.
Click the images below to download materials: