Ingenuity's Arts Education Conference Resources – 4/5/19
I will be speaking at Ingenuity's Arts Education Conference on April 5th on the topic of "Personalization in the Arts Classroom." The session will rely heavily on tech and using apps from the Google Suite (like Google Classroom). I wanted to post a brief overview of the presentation as well as the handouts, links, and other resources I will be using. 

In this session, participants will explore what educational trends of personalized learning, competency-based progression, and a multi-tiered classroom look like in arts classroom setting. By using technology as a tool, participants can learn to help students self-select their learning path and gain useful formative feedback as they progress. Transition your classroom to a student-driven workshop environment that increases not only engagement, but achievement as well.
Presentation Slide Deck (.ppt)
What is Personalization?
A common misconception about personalized learning is that each child has their own curriculum. This falsity causes teachers to roll their eyes or write it off before even learning about it. You don't (and can't) do that for each student, especially in the arts classroom. It is more focused on allowing freedoms for how students learn as opposed to what they learn. The biggest piece of a personalized learning classroom is the playlist – this allows students choice in what, when, where, and how they work. Students pick the topics from the list and move through it at their own pace. It allows extra time for slower learners and provides and opportunity for quicker learners to move ahead – and in the arts room it can provide the luxury of allowing students to finish projects they are passionate about. This is more of a vertical alignment to the standards as opposed to creating more work for students who finish early.
Why Google Classroom?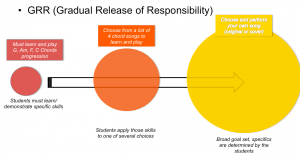 If you watched the video at the topic of the post, you'll see how and why I rely on Google Classroom. It allows me to do so much personalization, so effortlessly. Google Forms allows my students to self sort, and the Classroom allows me to not only push out individual or small group content to students, but I can also leave them individual private feedback – which is a total luxury in any noise arts room. Here is a typical assignment: I post the assignment with a checklist/rubric, and example of the work, and usually a video or ppt tutorial. I can choose the students I assign it to, and might include an additional skill for my more advanced players. After that students watch and practice individually, and when they feel they're ready, they take a video of themselves practicing their instrument and submit it to the assignment. From there I can watch it on my own time, and more important comment on my own time (and privately.) No more performing in front of the class and having to get immediate feedback! If they're done they can move on to the next assignment, which offers more choice and voice. The gradual release of responsibility (GRR) is essential as their talents and abilities grow.
Essential Elements
I want to model personalized learning in this training session – and so have three different assignments or topics attendees can focus on. Just like in an authentic personalized learning class they won't be able to do everything all at once. They can focus on one of three essential elements
How to use Google Suites

This power digital set of tools can save you a ton of time and effort in the classroom. Learn how to personalize Forms, turning them into surveys or quizzes, as well as setting up your Google Classroom to set out resources to individual students.

Setting up a Playlist

Using backwards design think of your goal and the skills required to meet that goal. Front load the essential skills and allow students' voice in how they learn to grow with their ability

Designing your Classroom

Curating a physical space to promote artistic behavior can be essential in promoting autonomy. Consider using specific jobs to facilitate the classroom setting and arrange furniture to help encourage specific behaviors. (individual desks don't encourage collaboration)