Musician Reports: An Interdisciplinary Hands-on Research Project
A fantastic month long project that combines local musicians and gen-ed social studies standards in a fun and innovative way. Working with classroom teachers, together we were able to reinforce the material learned in their classes while making it relevant by tying in popular musicians the students loved. Through a detailed step by step process we researched, created, and voted on musician report booklets, eventually creating a published tangible book for each classroom involved! 
Order your copy of our Illinois Musician Report book here: 
http://www.lulu.com/shop/frank-cademartori/illinois-musician-reports-201617/paperback/product-23206244.html

       Organizations from Edutopia, the AAE, and even the founders of Responsive Classroom have lauded using arts in the curriculum. Even I have written my thoughts in length about it. I love doing big projects at the end of the year and whenever possible I try and coordinate with classroom teachers to make my material align with theirs. Not only does this reinforce and add context to what they're learning in the gen-ed classroom, but it makes my experience as an enrichment teacher easier as well. The students are already familiar with the concepts and we can spend more of our time doing rather than explaining. 
     The 3rd and 4th grade classrooms had just wrapped up their "Chicago Fair" in which each student presented on a historic landmark in the City of Chicago. They have to satisfy various social studies standards that require identification of geographical regions as well as plotting areas on a map. In addition: the research and writing portions meet a number of Common Core literacy standards. I worked alongside them discussing the students landmarks but eventually transitioning to the famous musicians who are from Chicago and the surrounding areas. The students were all excited to learn about Chance the Rapper, OKGO, Fallout Boy, and many other, all the while reinforcing the same standards they had learned in social studies. An example of this would be when we tried to find the birthplace of all our musicians and tried to plot them on a map (made possible by the generous support from the Illinois Geographic Alliance, and their lending of a giant classroom map!)
Before you start:
     Each iteration of this project is different. Think about the end goal and what you want to achieve. The first time I tried it we stopped at step 2 when we created the booklets in class. What are the specific standards you want to hit and what are the particular things you want your students to learn? Before the project even begins you have to figure these things out and start frontloading. One thing I cannot recommend enough is creating a list of acceptable musicians for students to choose from. OKGO is a positive and kid friendly group (originally from Chicago!) that I'd feel comfortable letting students research on their own, while Kanye West (also Chicago-born) is not. Choosing from this list gives students choice but also direction that will help them get started with their research immediately.
Step 1: Research
     Another thing to do before starting this project is plan out the research phase. What exactly do you want the students to learn? I created a handy research guideline that asks for specific facts about their artist such as, birthday, original birthplace, 1 popular song, 3 facts, etc. (see picture) Again, this is giving students direction and structure but they will all use this information to create a unique and personalized product. My school is 1 to 1 with technology which made this part a breeze, but if you don't have that luxury you can a) have students partner up b) have a station rotation of available tech, c) print out physical copies of information (edited to be brief and readable) or even d) check out your local library they have a ton of biography books that are written with children in mind (example: The Blues Musicians )
Step 2: Creating your Booklet
      This is where the fun begins! Students use their research to create their own unique biography booklets. The instructions on how to make one (and the idea for the booklet) were borrowed from Susan Morrow's blog.
It's an easy and quick craft that creates a small booklet with 10 "pages" which was un-coincidently how many boxes were on their research sheet! I have students print out pictures of their artists, write in information and decorate it with all sorts of drawings and colors. I would definitely recommend showing students a high quality example from a previous class (or make one if it's your first time) This is also the time I tell students about the final part of the project: the book and the contest! It's important motivation and really helps get the best work out of your students. Make sure that you're circulating keeping students on task and giving them feedback during this time! This is where the grading portion of the project ended for me and I assessed the student's work using this rubric.
Step 3: The Gallery Walk
      The Gallery Walk is one of my favorite parts of the project. The students' work is set up all along a hallway and we literally walk through it (like an art gallery) voting on our favorite booklets! Even if you ended the project at the booklet creation, I would still recommend hanging all students' work in the halls. They love to see their work displayed and will eagerly hunt for the work of their friends or a booklet about their favorite artist. Speaking of which, I organized the booklets by artist and then taped a number by each one. It's a lot of work to hang it all up so be sure to use student volunteers! The next step is creating a Google Form with all the booklets artists/numbers on it for the students to vote. I usually push out the form via Google Classroom, or you can use a bit.ly link. Again, if you don't have the tech for, just create paper ballots! Google Forms gives you real time results as the votes roll in and the students love tracking the totals! 
Step 4: Put it in Print!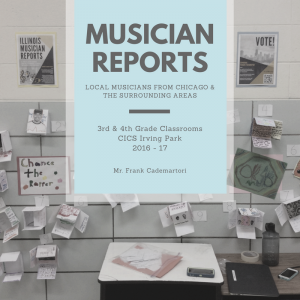 At the end of the week, after every class has voted, I announce the winners. How many you choose is up to you, I personally tried to have one from every artist, but only if they were "publishable quality." I scanned and photographed the pages and then using an online photo layout site (Canva for one) I assembled them into neat little pages. I compiled those pages and sent them over to Lulu.com which is a fantastic self-publishing site. To be honest this process was really labor intensive on my end and I think if I do this project again I'd work on shifting that lift to the students. Perhaps skipping the booklet and creating a digital version that I could just publish directly. The paper back book was published and I ordered one for each classroom as a gift, and then had the teachers push out a link if any of the families were interested in purchasing the paperback book. I sold it at cost and it ended up being less than $5 for a full color 50+ page book! It's so meaningful for the students to have a real tangible product, like a published book. I spent the last week talking about the work we did and the steps we took, and how eventually it came together to for an amazing product.
Order yours here: http://www.lulu.com/shop/frank-cademartori/illinois-musician-reports-201617/paperback/product-23206244.html