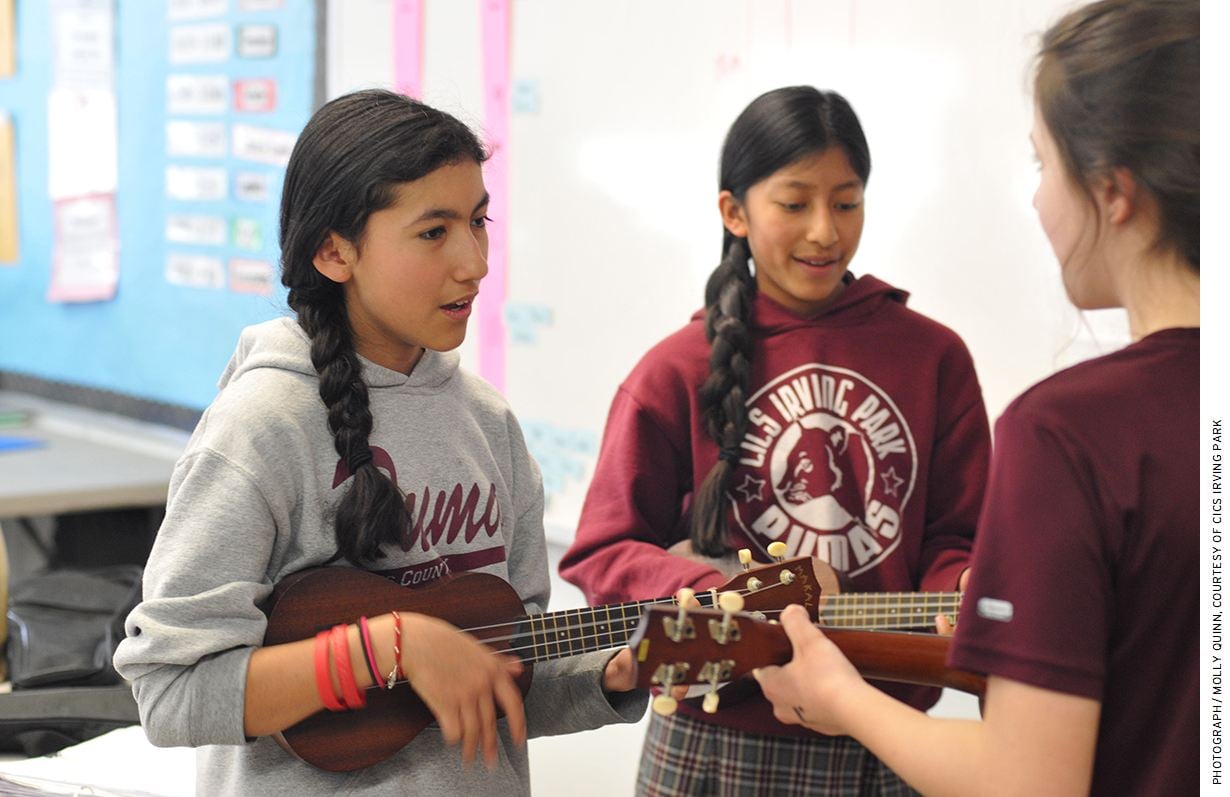 Featured in EducationNext.org : Personalized Learning Pacesetters
Harvard's "Education Next" journal had a wonderful write-up about the pacesetters in personalized learning. The article talks about Summit schools and the platform they use developed by Facebook's Zuckerberg. My school was lucky enough to mentioned in the article for the work we do, in particular the personalization that takes place in my ukulele class! 

     Education Next is an online-only journal published by Harvard that deals with innovative and upcoming trends in education. This particular piece is about personalized learning and how you can tailor the material towards the student. A great deal of the article deals with Summit Schools and their learning platform that was developed by Facebook's Zuckerberg. However I was honored to also have the work we do in my ukulele class be featured (in picture for, no less) in the article.
You can read the full piece here: http://educationnext.org/pacesetter-in-personalized-learning-summit-charter-network-shares-model-nationwide/
Personalization in Music
     The elevator speech I gave the representative from Education Next about my class was one of gradual release of responsibility (GRR). Most of my students come in having never played ukulele before and so are starting at a very similar spot. However, as with any pursuit, some will progress quicker and others slower. The course progresses in 3 distinct phases:
We start with whole class instruction covering the basics like: string names, how to tune, repeat after me strumming patterns, and cap this phase with learning the song "You are my Sunshine."
Then next phase is learning Disney's song Lava (more about that here) Students break into 4 different groups each learning a part of the song (1 verse, 1 chorus), then performing and compiling all the performances together to create one piece.
The final phase (and this is where my student were at when this article was written) has students self-selecting both songs and groups. The songs come from a prerendered list (created & ranked by the teacher) and all use primarily F,C,G, & Am. The students have access to physical sheet music, a Google Classroom full of tutorial videos, and small group instruction with their teacher. The goal is an in-formance in front of their peers that is video recorded and later assessed with a technical rubric. 
The personalization comes not in what they're doing, since they're all learning ukulele, but how they're allowed to learn. The students have multiple resources available to them, the presentation of content varies between face-to-face and online based, and the instruction is eventually self directed. Students select material that challenges them at an appropriate level and then approach it in a way (or ways) that make sense to them. The process promotes self-efficacy, communication, collaboration, and problem solving which are all skills that we want to see in our students and children.