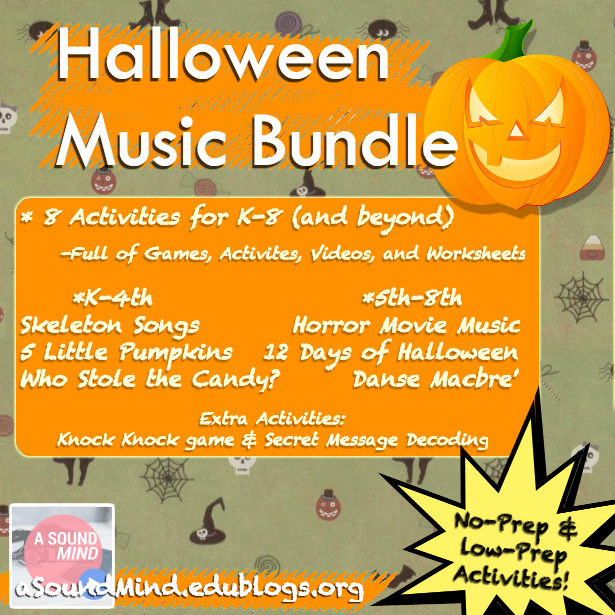 This is Halloween!
One of the best parts about being a teacher is you never really have to let go of your favorite holidays. Every parent knows how magical this time is for their kid, and every teacher has 30+ kids in their room. There are so many fun ways to work this engaging holiday into your lessons, and here are a few of my favorite musical activities and games!

#HappyHalloween Decided to spend some time video taping ALL my classes fun Halloween activities. Here's a snapshot of all the great work we do! #musiclessons #elementarymusic #MusicEducation pic.twitter.com/8ZNwK5Wu3k

— Frank Cademartori (@asoundmindedu) October 31, 2018
Halloween Music Activities Bundle: 
Let's Get Spooky!
I always try and find that perfect level of spookiness in my Halloween lessons. You want them engaged and laughing at the skeleton or ghost….not crying (its happened). That spooky spot if going to be different for different grades and so when I talk about these activities I'm going to break them up into two distinct sections: K-4th and 5th-8th. The best way to start any lesson is to just ask the students about Halloween; either what do they find spooky or what they're planning on dressing up as. You'd be surprised at some of the answers you get (squirrels in cornstalks is my favorite) 
K-4th Example:
     Who better to help in your classroom than "The Count"? This musical mathematician is not only passionate about counting but a spooky vampire to boot! Incorporate him into your math center for the month of October, or use him as a fun introduction to a unit. That's what I did with this "Spooky Skeleton Activity." We listen to a few songs, count a few skeletons, talk about the bones in the human body, and then do the skeleton dance. Math integration! Science Integration! and full body movement! It had a few audible "awwwww's" when I announced class was coming to an end. For the teacher with more than 45 minutes a week, this theme can be stretched out for pretty much as long as you need! 
5th-8th Example:
    It's always tough to get the older students engaged, but one this that only increases as they get into their teens is their love of horror movies. I have a great lesson in this package I used with my middle schoolers about comparing horror movie songs and creepy vs. scary, but I want to focus on the timeless classic of Camille Saint-Saens' "Danse Macabre." This 1876 song has been animated countless times, and tells the story of the grim reaper and dancing skeletons on Halloween at midnight. For the 5th/6th age group it hits the spooky spot perfectly! You need to listen for instruments that represent characters for events (violin=grim reaper/xylophone=skeleton bones etc) and I like to discuss the properties of those instruments, as to why they were chosen. From here the applications are endless: story sequencing, author (composer's) intent,  and this year I'm trying out a shadow puppet theater. 
Integration:
     It might seem too simple, or maybe not worth the effort, but I assure you that integration something of such high interest into your lesson will have a dramatic impact. I work with a student who normally never participates, until he had a chance to write about zombies, and wow, he literally ended up creating an entire book and leading a discussion during community meeting. A group of girls are in love with designing their spooky cemeteries for the shadow puppet theater, and kindergarteners were trying to count every bone on a skeleton print out as a free choice activity. I rarely see the same thing engaged so many students of so many different ages, but Halloween is it! Don't miss an opportunity to include it in your classroom. 
Permalink: https://www.teacherspayteachers.com/Product/Halloween-Music-Activities-Bundle-2806548