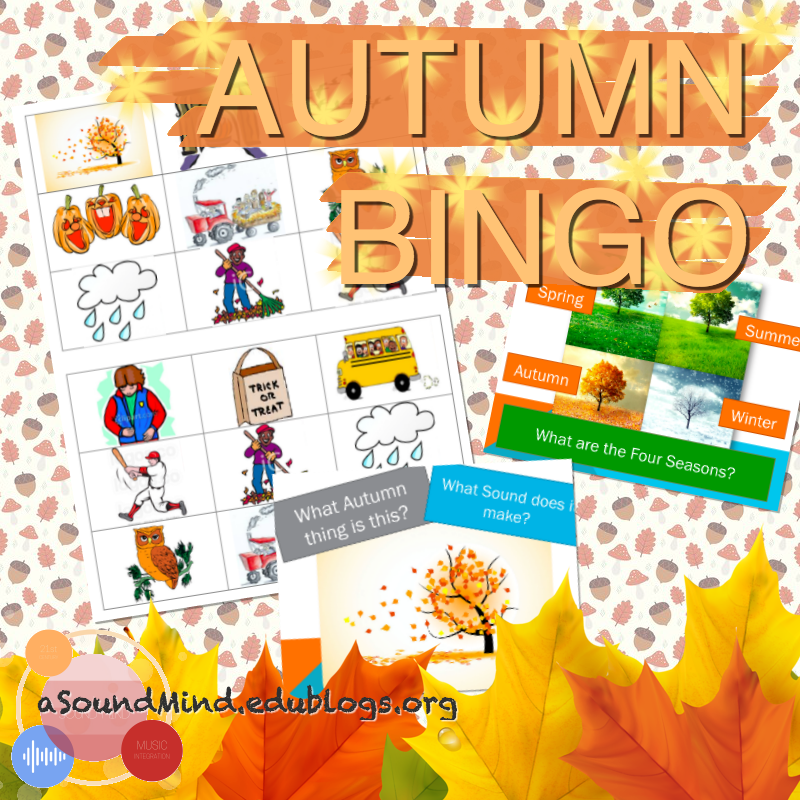 FREE LESSON: Autumn Bingo
It's Autumn, we can hear the school bell ring, geese flying south, and the leaves crunching under our feet. Put your students ears to the test with this fun listening active that's great for grades K-2nd. It has students discussing the Autumn sounds they hear in the lives and then listening to them w/ 4 different tic-tac-toe bingo board. A great tie into science (parts of a leaves, seasons, predictions, etc) or a stand alone lesson for a short fun activity.

What sounds can you hear outside?
I ask my students, and together we map out the answers on the board. We discuss where they heard the sound, what made it, and if you can only hear it during this season or not. Students of this age love to talk about their lives and share personal connections. After discussing the sounds they can hear in their lives, we go through each sound thats in the game. If the class can handle it I'll have them try their best to make what they think the picture will sound like (see right) but it can get pretty noisy pretty fast! 
     After I explain the rules I'll pass out the bingo boards and we usually can get 2+ games in. I'll change up the winning conditions every game to keep students interested (and also to make the games last longer!) Bingo is always a huge hit in my classroom.
Integration:
    These bingo games are the perfect tie-in to science in my opinion. I would even consider running them as a stand alone science station with a headphone splitter. That way up to 5 students can play at once. For this purpose I meshed all the sounds together and created three long mp3s (so you don't have to click stop and play after every sound) If can be rainy or cold at this time of the year, but if you school allows it I'd go for a listening walk around the block with your class and see what you can hear with your own ears. I did this with my students in Spring and it was a huge hit! How you choose to integrate music into your classroom is up to you, but please share because I love hearing about all the creative ways teachers think.