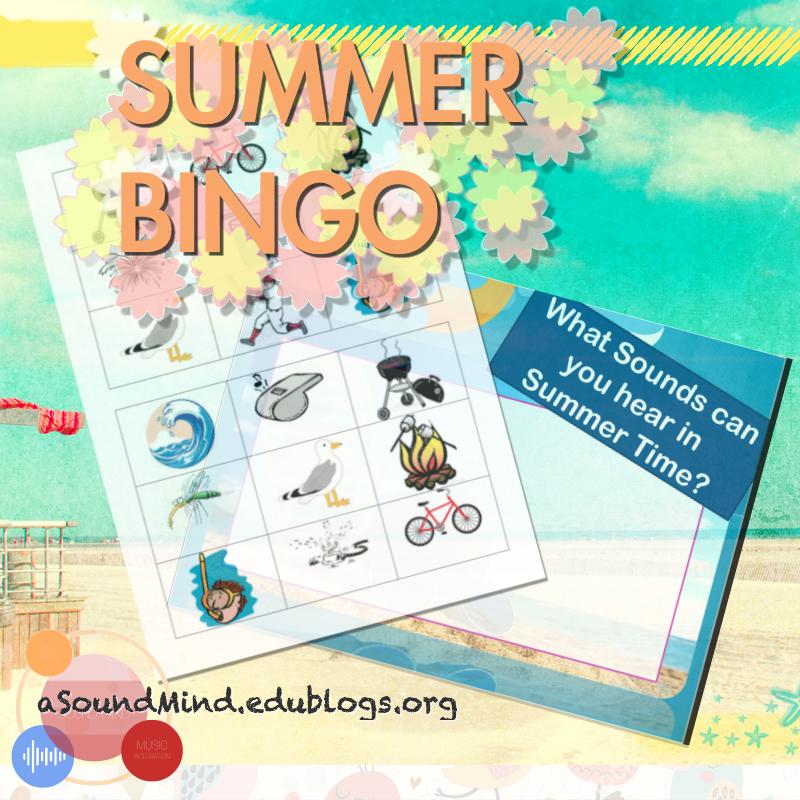 FREE LESSON: Summer Bingo
Summer is starting to heat up outside, so let's put on our listening ears and see what we can hear with Summer Bingo! Even if we can't go outside we can still listen for sounds of the beach and bugs and more!

Students are naturally intrigued by the world around them and love to explore it using their senses. This great activity, for grades K-2, has students discussing the sounds heard in Summer and then listening to them w/ 8 different tic-tac-toe bingo board. A great tie into science & the natural world or social studies and our communities. It can even be used a stand alone lesson for a short fun activity.



What season is it?
     If time and freedom allow, I always try and go for a walking the world either immediately prior or after this lesson. It's so important to tie the world around them into what they're learning. Not only will they be more interested it also helps them remember more and make connections!
      I review each sound, having students make the sound themselves, before explaining that it's those sounds we will use for our game. It's important to explain that each Bingo board is different and that not every bingo board has every sound (if you don't do this, kids will flip their boards over, or complain they don't have it, or don't understand, so save yourself a headache)
      I have rules for 5 different ways to win, so if 3 in a row is too easy for your kids try the 4 corners version. Kids love it and multiple plays is almost a guarantee! 
How will you integrate it into your home or classroom?
Hardlink: https://www.teacherspayteachers.com/Product/FREE-LESSON-Summer-Bingo-2563252