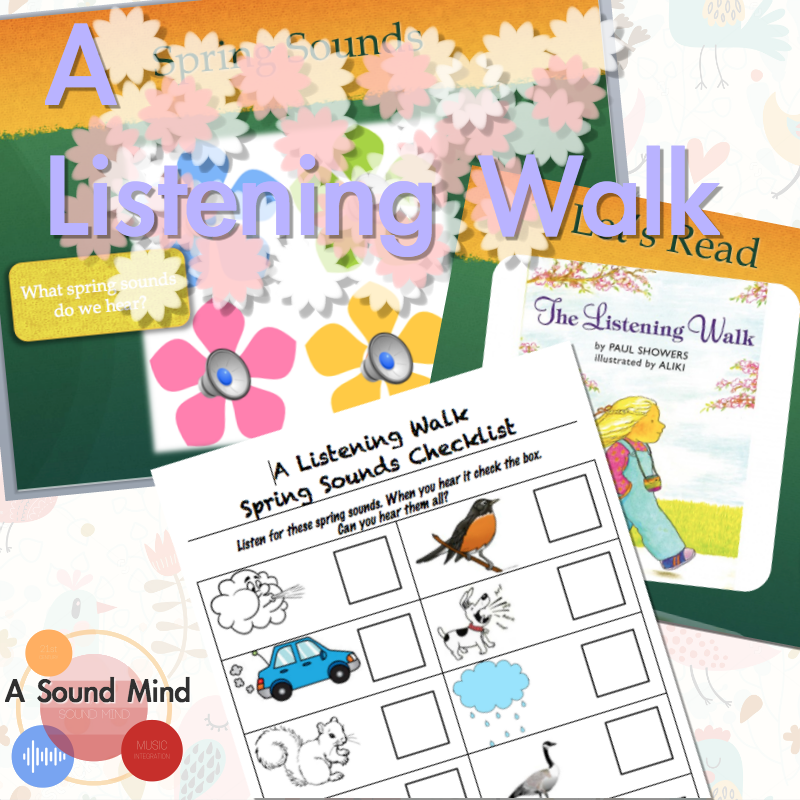 1
The Listening Walk : Spring Sounds
Spring has Sprung! Put on your shoes and coat and get outside. With the help of Paul Showers' book, "The Listening Walk" we explored not only our five senses but the world around us too! A great lesson for spring time, or science integration! 

Find the lesson materials: HERE 
      Spring break was late this year, but that's ok because apparently spring was too! I kept waiting and waiting for some good weather but it never came! Finally the week before break, right when I was wrapping up my "Spring Sounds" unit for elementary school, we had a string of nice sunny days in a row. Perfect timing
This was a great opportunity to tie in the world around us to what we're learning. I love incorporating the real world and I think it's one of the most meaningful things that a teacher can do. In this activity we first read the short book, "The Listening Walk" by Paul Showers (illustrated by Aliki). I just got my copy from the library, but if you like the lesson and plan on doing it yearly it might be worth your time to just buy the book.
The Listening Walk:
       The story stresses being quiet and listening to the sounds around you. At the end of the story the main character says, "To take a listening walk you don't have to go far, you can even stay in your room….all you have to do is stay quiet and listen." Which is great because even if it rains on the day of your walk it still opens up opportunities to do an indoor version. We were lucky, and the weather was nice for us.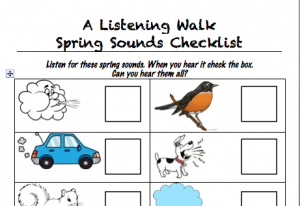 Prior to going out, I go over expectations and then passed a checklist to each student. (if you have clipboard, I'd put them to use!) After that we took a walk just around the block, stopping for a few minutes at each corner. It was so fun to watch the students cupping their ears and craning their necks to hear every sound. At the end of the walk, we circled up on the blacktop just outside the door to discuss the sounds we heard and didn't hear. It was a great lesson that really helped to tie-in what we'd been learning with the real world and the students were so excited to be out of the classroom.

Science Integration:
Although this was music class, this lesson (and this unit) are great examples of how common core should work. The crossover to science is seamless and these could even be used as stand alone lessons in that subject. Observing (listening) and recording (on the checklist) the natural world around us are things that every young budding scientist should do. Plus seasons are on your curriculum maps (K.P.2.1 & K.E.1.3) so why not have a little fun while learning?
TPT Lesson Plan: https://www.teacherspayteachers.com/Product/A-Listening-Walk-Spring-Sounds-2480249