FREE LESSON: Spring Bingo
Spring has sprung, and let's put on our listening ears and see what we can hear! A great listening game for grades K-2 has students discussing the sounds heard in Spring time and then listening to them w/ 8 different tic-tac-toe bingo boards.

       My students  LOVE playing Bingo. Even without prizes (although if you decorate easter eggs at home, you probably have sheets of leftover stickers). I've done this lesson with Pre-K through 2nd grade students and could probably keep going a few grades.
What season is it?
       Engage students with a hilarious video of animals coming out of hibernation talking about Spring. It's a great way to activate prior knowledge and get students' brains spinning in the right direction. After that I discuss with them what they know about Spring, what sounds can they hear, etc? Jotting it all down on the board.
      I review each springtime sound, having students make the sound themselves, before explaining that it's those sounds we will use for our game. It's important to explain that each Bingo board is different and that not every bingo board has every sound (if you don't do this, kids will flip their boards over, or complain they don't have it, or don't understand, so save yourself a headache)
      I have rules for 5 different ways to win, so if 3 in a row is too easy for your kids try the 4 corners version. Kids love it and multiple plays is almost a guarantee!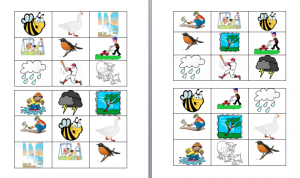 I use it as an intro lesson to a unit on Spring but it's not specific to music at all. How will you integrate it into your classroom?
Integration Station:
A great tie into science (parts of a flower, seasons, predictions, etc) 
Couple it with a book and it's a good addition to any reading or literature unit!
(I use it with "The Listening Walk")
Math can help give some practical application to things like prediction or probability. 
Perma link: ( https://www.teacherspayteachers.com/Product/FREE-LESSON-Spring-Bingo-2475837 )