3
Kandinsky & the Color of Music
Blend artistic disciplines with these fun and engaging ideas around music, art, and sound. Wassily Wassilyevich Kandinsky was a Russian painter and art theorist. Kandinsky is generally credited as the pioneer of abstract art. He also experienced a rare neurological phenomenaa where he could see music and hear color. Explore that strange and wonderful universe through songs, games, website, stories, and more!

Every kid has a favorite color, in fact, they probably have three. If you want instant engagement just ask your students what their favorite colors are. This is where I start the unit, and there's an abundance of resources to help facilitate this; from live polls (Nearpod), to drawing activities (SeeSaw) or even allowing students to color and annotate the screen (Zoom). What we want to eventually focus on will be colors and feelings. How do the two connect? Some wonderful resources I would recommend are the stories: "The Color Monster" and "The Day the Crayons Quit" – both show that colors can contain meaning and deal with colors and emotions in their own way. It's a great way for students to talk about their feelings and then try and connect them to colors. Has anyone ever heard the phrase, "I feel blue?" well why do you think we say that?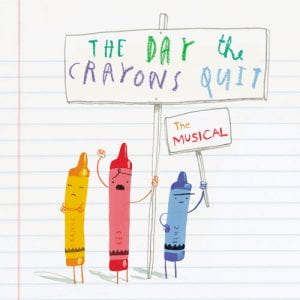 The Color Song
We also spend time singing The Color Song written by the same composer who penned the smash hit "The Duck Song" – which should tell you everything you need to know about how much your students will love it. It's a simple rhyming so that leave the end of each line open to rhyme a color. Ex: I stay in bed when I see _ _ _! So you can sing it and re-sing it as many times as you want since students will love guessing the colors correctly. Even though there is a video online, I think it has a weird intro with some creepy Annabel-esque uncanny valley doll, so I just sing and play it with my guitar (sounds better anyway IMO). He is are the chords if you need them (CHORDS LINK) but one thing I did when I played it was chance the C to and A which makes it sound much better!
Wassily Kandinsky
The neurological phenomenon Kandinsky experienced is called synesthesia (or "joined perception," from the Greek word syn meaning "join" and aisthesis meaning "perception"). It's a rare but real condition in which one sense, like hearing, concurrently triggers another sense, such as sight. People with synesthesia might smell something when they hear a sound, or see a shape when they eat a certain food. Kandinsky literally saw colors when he heard music, and heard music when he painted.
He wasn't the only one, apparently, Ratatouille experienced this too! This is how I intro the artist Wassily Kandinsky. It's a good opportunity to discuss how people might be different and how it can still be wonderful and unique, or discuss that we might not all perceive the world the same way but that doesn't mean it is bad or wrong. In fact, this unique perception allowed Wassily to create very wonderful and unique works of art. We use the story "The Noisy Paintbox" to explore his life story from growing up in Russia to becoming a renowned artist. In order to give students a better understanding of this idea that shapes and colors can have unique sounds, we'll spend a significant amount of time exploring the Chrome Music Labs game entitled "Kandinsky" (which was my inspiration for this whole unit!)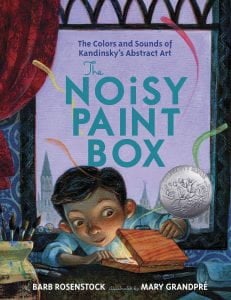 Music & Art Combine
I think it's really important for students to experiment and explore their creative depth in multiple ways. Plus by combining disciplines you can attract and engage more students. Those musicians who aren't artists and the artists who don't like music might give this a try. I'm not an art teacher, but I found a really easy 5ish minute lesson on creating one of these Kandinsky styled artworks, coupled with explanations, history, and how-to – perfect! You can have students do this asynchronously, or together as a class. I would definitely listen to music while creating this artwork and encourage students to feel the music and represent it in their art. Much like Kandinsky, let the sounds influence your shapes and colors and have the visuals you create be inspired by the music. You can put on a piece of music for the class to listen to or allow students to choose their own, and listen to it as they create. If you're hybrid or remote, the at-home learners can do this easily, but if you are in-person headphones will probably be essential! This is a great and fun way to explore the content while engaging learners' creativity in a new and novel way!
A Virtual Classroom
If you are teaching remotely, concurrently, or hybrid, or in-person one of the trickiest challenges is always just getting students to use tech responsibly, and getting them to go to the correct place. One trick I use to engage online learners is to filter all the materials, videos, and links through a virtual bitmoji classroom. If students are using iPad you can have a short created for it right on their desktop or a bookmark made on their Chromebooks. There are tons of tutorials on how to make these, so I won't go in to that here, however, I will give one tip! When sharing out the link, you'll want to select file > Publish to the web, > and then share that presentation link. This is important for 3 reasons: 1) it's permanent – no more updating links 2) it's fullscreen and 3) it's a LIVING LINK, meaning when you update it on your computer it'll automatically and immediately update on all students' devices. This corrects any issues of bad or broken links and lets you update it with the material. So while this screenshot is what my classroom looks like now while we're learning this material, when we move on to a new unit I'll update the videos, links, and activities according to what we'll be learning. And again, it just automatically happens on all students' devices! This had allowed me to form a consistent resource and routine with my students no matter how instruction was delivered!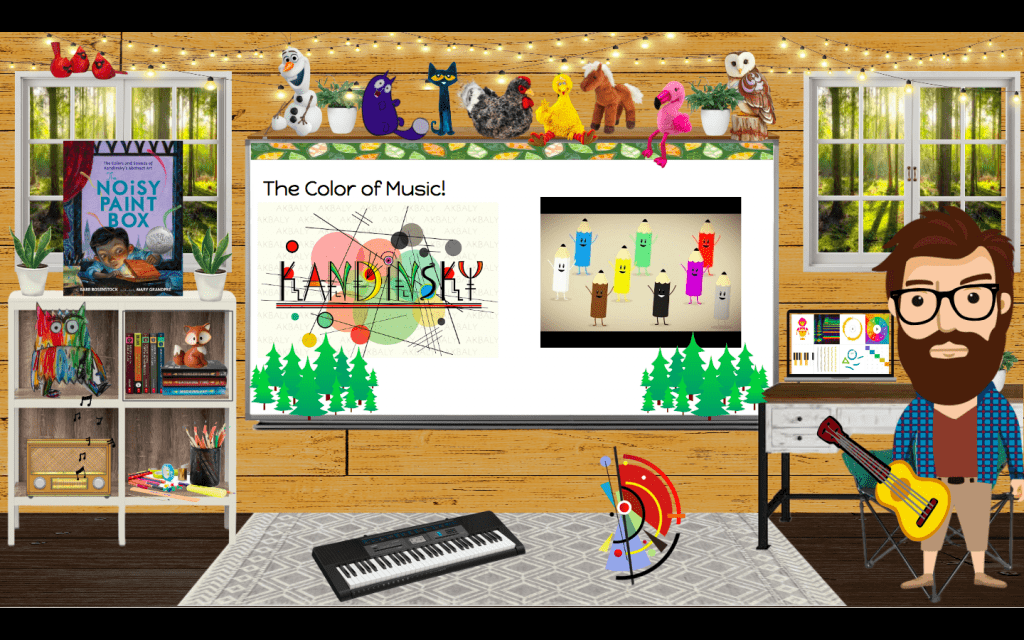 Additional Links: