How to host a Virtual Winter Concert
With everything up in the air at the end of the year, the annual "Winter Concert" might be low on the list of your priorities. Don't scrap this time-honored tradition, use the new setting, and circumstances to re-invent what it can be! Sure packing hundreds of students and parents into a gymnasium might not work right now, but there is plenty that can! 

The Winter Concert and I have a love/hate relationship. I think this is how most music teachers feel about their "big event." I love being able to showcase my students and give authentic meaning and purpose to our learning, but it's also just a ton of work. I always try and make them engaging and fun, not just for the students and the parents, but for me as well. Trotting out class after class singing unrelated choral pieces is a drag. It's what I grew up doing and what most families think of when the Winter Concert comes to mind. It's such a widely accepted trope that in the very first episode of The Simpsons ever, they absolutely skewered it.
https://www.youtube.com/watch?v=wRe1W93oru0&ab_channel=simpsonschannelx
I never wanted that to be me. I love the holidays and the community and joy that come with it. I try and make each year a spirited fun event, interactive even. Typically the students run the show, design the program, write the script, act as host, etc. We've had Scooby-doo style mysteries, interactive games shows, even a Night at the Movies theme. My favorite though was "A Snowy Day" which celebrated the 55th anniversary of the classic children's book of the same name. I hoped that I would be able to repeat the intimacy and familiarity of that year's event, but my school is completely remote. Can I even have a winter concert at all, let alone a memorable one?
Plenty of institutions are hosting Virtual Concerts this year, and why not? NAfME unironically wrote about holding a virtual concert back in February of 2019, in case you were "snowed in." However, their article might be more helpful now than it was when they published it. You can read more here: NAfME – Virtual Concert. I want to explore some options and approaches on how to have a "Winter Concert" while teaching in a remote setting.
A Snowy Day
Use a text to create a musical read-aloud. Have students learn songs that accompany the text, and then package it all in a pre-recorded video you can release at a certain time. In the video, you are reading, or narrating the story, and singing. Students and families watching at home can sing the songs you've practiced in class. It might be a "simple pleasure" but it's also comforting in its familiarity. Simply by incorporating Ezra Jack Keats' classic 1962 children's book, I felt that I was able to re-invent the entire show into a "novel" (get it?) experience. The book allowed me to have incredible literacy tie-ins in my classes leading up to the concert and provided opportunities for the classroom teachers to be involved. I love it when the music and art classes seep into the regular classroom. This friendly and accessible text made that possible. It also made the show more interactive and purposeful by progressing through the events of the story with each additional song. On Ezra Jack Keats' website there is an amazing digital storybook that is available for free. Lastly, the text gave me some much-needed direction when it came to song selection. I was able to look at the events in the story and think "OK, we'll need a song for the snowball fight, we'll need a song for when the snow melts, etc." I was surprised how quickly and effortlessly everything came together once I had a central theme, and by using a children's text it also helped make that theme meaningful.
A Bitmoji Classroom Scavenger Hunt and Sing-a-long
These were all the rage at the beginning of the year but now have fallen into one of two camps: used daily or forgotten and discarded. If you're in the latter camp, it might be time to bring it back. With my younger grades, I use it as a tool to push out links and videos or direct them to websites I want them to visit. We're reimaging the winter concert this year as a virtual scavenger hunt sing-a-long. Where I'll pre-record a video of me "hosting" a winter concert and have students and their families navigate their way through the Bitmoji classroom.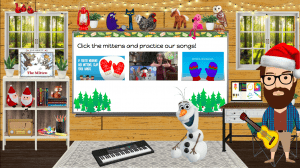 Together we will be singing songs (the 3 on the board) having a read-aloud (The Mitten by Jan Brett), checking in with the Santa Tracker (Santa on the bookshelf), and discussing favorite Holiday Traditions (Olaf). All the while I will be acting as a virtual host for the event. This can be recorded or live depending on your population and needs. I've elected the prerecorded option, with a "premiere" date, but I'll leave the video up so working/busy parents can participate in it any time.
Live Family Song & Game Night
Much like the previous option, this is on a much smaller scale, with the purpose of bringing children together with their families to sing and bond. I'm doing this with my 3rd and 4th graders this year. We're practicing Winter classics like Jingle Bells, Let it Snow, and Frosty the Snowman. We practice singing them in class and I intended to host a live event, where I'll share my screen displaying the lyrics while I play guitar and we'll all sing along together (families on mute). These are songs everyone knows, but aren't necessarily connected to one specific holiday. In fact, did you know that Jingle Bells was originally written as a Thanksgiving song? This piece of trivia and other student-created questions are currently being compiled into a Kahoot game, where students will write the questions and then we'll play the game LIVE with families. One trick that I'm working on is having students record themselves asking the questions via SeeSaw or Flipgrid and then I'll insert those videos into Kahoot. This will be less of a concert and more of a family game night, but both will bring music and joy into the lives of those who participate.
Other Options:
The Compilation Video – plenty of people have this idea, where students record themselves independently and then you compile them into a single video to share. A couple essential tips I can give: a) create a click track so they're all aligned and b) have them record with headphones one. Here are a few tutorials to help: Guide 1 | Guide 2 | Guide 3
A Virtual Holiday Greeting Card – In addition to a concert I'm creating a collaborative board where families can log-in and record a virtual "Happy Holidays" that they will post to a public-facing Flipgrid, anyone can post (with the code) and anyone can see it. I've gotten the ok for this because it's totally opt-in. I'm transparent about what it is, and if families want to then they're choosing to record and post a video publically. It's a great way to share and bring a community together. Flipgrid | Flipgrid Families Idea
A Winter Walk – Create a fun school event where families can walk around the neighborhood, or the school and enjoy lights, decorations, or other events and ideas. Even in the strictest states, most allow some form of outdoor gathering. Stagger the event with days and start times to keep the population down, but another option to bring students and families closer together.