How to create a Self-Directed Playlist using SeeSaw
Using the ed-tech platform SeeSaw, I've been able to create self-directed independent learning playlists (menus). These are amazing for asynchronous learning, independent learning, self-directed learning, or even learning centers. The menus are easy to navigate but provide students with the choice and voice that is so essential when trying to foster participation and buy-in. This tutorial is specific to SeeSaw but the ideas could easily be applied to NearPod, Google Slides, or any number of platforms that you are using in your classroom.

"The best teacher isn't the one who knows the most", said HL Mencken, but rather the one who makes complex ideas simple and accessible. Teachers are also learners, and teachers are always adapting. The best revisit their lessons while making notes and modifications to improve. Our classrooms are constantly evolving, and just because something worked previously doesn't mean it will work now. I think that's a big reason that distance learning hasn't completely failed.; the perseverance and adaptability of teachers. I know that I've modified my practice making huge changes in just a few short weeks. I continue to learn and improve based on what I've experienced. Right now, I've been learning a lot about using tech tools for assessment and independent learning time. They've really changed my practice, almost overnight, and have engaged even some of my most hesitant students. I want to walk you through not only how to make an independent learning playlist, but some of my favorite lessons, ideas, and activities as well.
Background Knowledge:
Creating a Self-Directed Playlist on SeeSaw
A learning menu, choice menu, self-direct playlist, etc, is just a list of tasks, assignments, or activities for a student to complete. They typically can be done in any order, and might not even have to all be completed. This section is just about the nuts and bolts are actually creating the playlist, but we can talk about filling it up later. When you are in your SeeSaw library and are creating a new assignment, you'll want to start with "creating a template" and then select the drawing option. (see picture). From there you'll construct your first page; think of this as your home page, or landing page. It's going to featured clickable boxes that take students to the desired activities, one for each option. I also typically add video or voice instructions to this page to make it more accessible to ELL students or visually impaired students,etc.
You can see here, I have 6 blue boxes and a video of me explaining what students should be working on. The next step is to make our pages – add them on the right-hand side, creating one for each activity. If you have 6 activities like me, you'll have 7 pages (one for your home page/landing page) On each page you'll create the desired activity; whether it's to watch a video, record a video, draw a picture, etc. Once you've created the activity on each page, you'll return to the home page (page 1) to link them there. Click the box, and look for the bubble with three dots, this will open up a menu. Click "Link", and then instead of inserting a website or URL, you want to link it to another page in your template. (See the picture here). This will allow the students to just click on the box and go straight to the page with the activity on it. This allows them to navigate between then, selecting the ones they want to do, as well as choosing the order they complete them in. Just a note, once done linking the slides, I would "lock" the boxes (done in the same way as setting a link) so that students can't move them or delete them accidentally.

SeeSaw Activities
If you are new to my blog, you might not know that I'm a K-8 general music teacher. The only reason I'm mentioning it is that the activities I'm going to suggest here are probably a lot more open-ended than you might be used to. If you want to find an activity that caters to a specific standard or skill, SeeSaw has a whole library available. (link here) You can search by subject, grade level, and keyword. For a gen-ed teacher, I'd imagine it's really useful, however as a music teacher who doesn't focus on notation, I think the music section is kind of lacking. Here are some alternative activities I came up with.
Halloween Rhythm Creator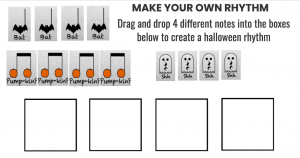 I know it's not Halloween anymore, but this was a super easy and fun way to both check for comprehension, as well as collect a tangible artifact to make sure my students were on task. I paired it up with this great YouTube video ( link ) You can add the activity to your SeeSaw just by clicking the link below.
Farm Sounds Bingo
Listening Bingo is a super popular activity with my students (K-2) and we play it for each season, instrument bingo, and now farm animal bingo! It's great because they get to make their own bingo board, so each one is different (this prevents everyone from winning at the same time) but it also gives me that ever difficult tangible artifact to confirm that yes, this student was participating. It actually was an extension to my farm unit that I've been teaching for a while (materials here) which I've been updating for distance learning.

Chrome Music Lab's Shared Piano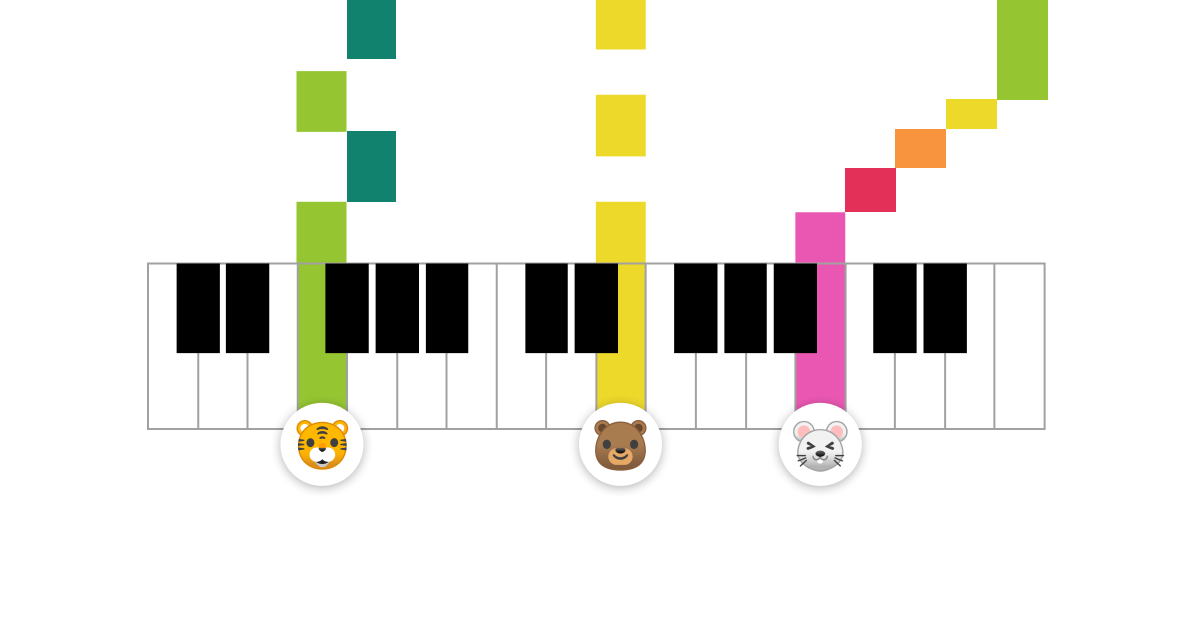 If you haven't already used it, Google Chrome's "Shared Piano Lab" is an amazing tool perfect for distance learning (link). It lets students follow along to a song, play their own, and even collaborate in real-time with their peers. In this assignment, students had to choose a song to learn, record themselves playing it, and turn in their link on SeeSaw.

Instrument Families
Probably my most fleshed out lesson in terms of activities. I built this lesson from the ground up with SeeSaw in mind. It includes Instrument Sorting Games, Instrument Reports, Instrument Sorting, and even an amazing design your own instrument monster activity. You can click below to read more and access the SeeSaw activities. I also have the materials available here (link)