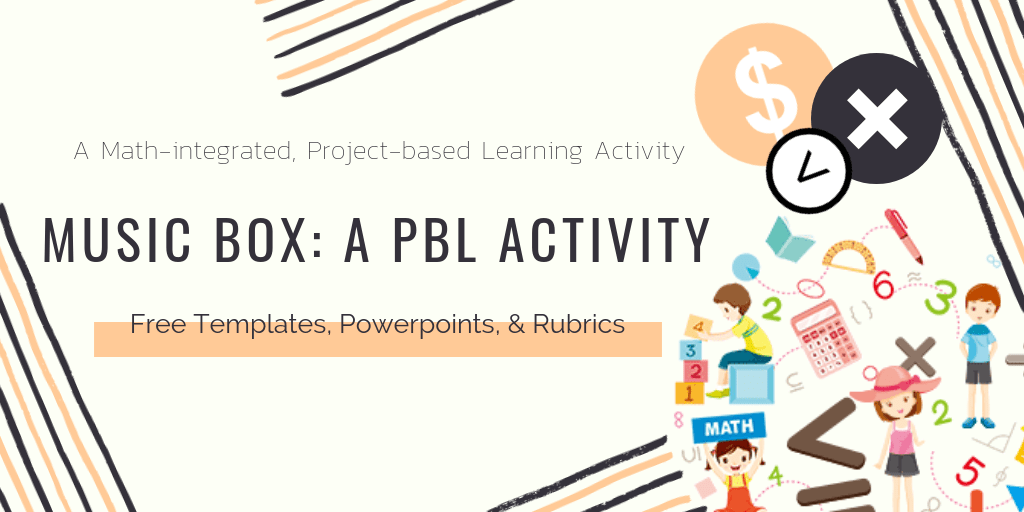 The Music Box: A Project Based Learning Activity
A great introductory project that is based on student interests. Can be modified easily to work in any subject, and incorporates numeracy, budgeting, and other math skills. This open-ended idea has students creating monthly "loot crates" based around a central theme (music in this case) and then they have to create a budget figuring out costs and profits, eventually presenting their findings to their peers.

See it in action! A project overview from start to finish.
It was after Winter Break and I needed a fun and engaging project to jump start the second half of the year. I usually like to have at least one small "student-interest" project before I start passing out instruments and other breakable items. It not only makes them more engaged and invested in my class, but it also allows me time to [re] establish a relationship and rapport with them. If I'm constantly reinforcing rules and expectations (as I should be the first week back) then it helps if the project is both self-directed and fun!
What is a Music Box?
Again, I did this right after Winter Break and I knew my students would all want to talk about their new gifts or toys (or the ones they wish they would've gotten instead). A popular service these days is something called "Loot Crates" which are often featured in "unboxing videos." by Youtubers. It's basically just a themed gift box that you can get delivered to your house – you know the theme but you don't know what's in the box; so it's usually a real fun surprise for the recipient.
In this project I had students thinking of packages they would create if they were in charge of their own "Loot Crate" service. The only stipulation I really attached to it was that they needed to tie it into music. Now this was done with a lot of front loading and examples (A video game box isn't full of video games – but rather things like T-shirts, stickers, etc about video games) We took a look at a bunch of examples and created a sample Imagine Dragons box together as a class.
The Project
If you watched the video at the beginning of the post you'll know that it's broken into a few distinct parts: (see below for resources)
Choose a Theme (parts 1 & 2 = 1 period)
Brainstorm
Budget (also work on final project : 2 – 3 periods)
Present (1 period)
I did it in this order to try and allow people with similar themes to partner up rather than just their friends. It worked for some students but you might want to put your own stipulation on how groups are formed. Essentially students need to brainstorm as many ideas as they can of items or merch or experiences that relate to their theme. I usually dedicate an entire period to just this. Afterwards they select several items (I say at least 5) and create a Google Slides/Powerpoint presentation of what would be in their box. Once they figure out what is in it – I ask them to calculate the cost. There's usually a lot of guessing going on here but thats fine. There's a simple budget template I have them use – and then once they know how much it will cost them to make, I ask how much they would charge people, and then calculate how much money they'd make in a year. Initially it's met with resistance, and kids are usually disheartened by how much much they'd make per box – but then explain that it's just ONE box and if they sold 100 boxes it'd be this much! ("I only make $18 that's nothing!" – no, but if you sold 100 you'd have $1,800 – "Woah!")
This is where the bulk of the work takes place, and depending on their age and work ethic it might take between 2- 4 periods. When they're done, it's important to give them a spotlight to share their work. Initially I tried the typical come to the front of the class – but that took forever and was boring. So I randomly paired groups (I think I had 4 groups of 4 groups) present to each other in the corners of the room. Some were upset they didn't get to share with everyone, but just remind them you're not collecting the Google Slide and they can share it at any time! I think it was a huge success in getting my 5th and 6th graders to understand concepts like budgets and profits, as well as incorporating their personal interests. I did it with music, but this is a project that could easily work with any subject on almost any topic.
Resources:
Blank Template (Google Slides)